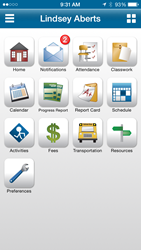 The Family App goes beyond providing a static display of repository data to offer information in a way that helps drive effective decision making by students and parents.
New York, N.Y. (PRWEB) October 28, 2015
Tech & Learning magazine has recognized the eSchoolPLUS Family App in its prestigious 33rd Annual Awards of Excellence program. The eSchoolPLUS Family App, which puts just-in-time information that supports student achievement at the fingertips of parents/guardians and students on their mobile device, was celebrated for breaking new ground in K-12 education.
According to Kevin Hogan, editorial director for NewBay Media's Tech & Learning Group, a panel of more than 30 educators chose the winners in this year's program. "Once again this year, the Tech & Learning judges examined hundreds of entries to select the winners of 2015's Award of Excellence. This wasn't just checking off spec sheets and surfing other people's reviews. Each product was handled and scored individually. Not an easy task," says Hogan. "These companies can be proud that their products were selected as winners by this prestigious team of judges."
Frank Lavelle, SunGard K-12 Education's president and CEO, said the company is honored by this prestigious recognition for a product that the company developed to establish a new paradigm for student information systems. "We wanted to create innovative, action-oriented support for today's schools," says Lavelle. "The Family App goes beyond providing a static display of repository data to offer information in a way that helps drive effective decision making by students and parents."
Easy-to-view icons quickly connect students, parents, and guardians with classwork, schedules, attendance, grades, activities, and more. By displaying data through the lens of action, the Family App helps schools and families support student achievement. In addition, the Family App is a 21st-century tool that helps students develop skills in productivity and time management that can benefit them throughout their life.
"Recent research by the University of New Hampshire suggests there is a causal link between the involvement and awareness of parents and guardians and how well a student does in the classroom. Our Family App is designed to put more of that just-in-time information at their fingertips so that it can be tightly coupled with their knowledge of what's going on in their student's life. With those insights, parents and guardians can structure what happens at home to support their student's success," says Lavelle. "And, for students, the Family App connects them with their education in a way that's both meaningful and familiar—helping to make it easier to manage their assignments and prepare for their assessments."
The Family App is available for iPhone, iPad, or iPod touch on the App Store, for Android devices on Google Play, and for Kindle on Amazon.
About SunGard K-12 Education
SunGard K-12 Education offers software solutions designed to help teachers, administrators, and parents support student achievement. PLUS 360 is a single integrated suite of software solutions for the management of student information, assessment and curriculum, special education, and financial and human resources. The suite—which provides district staff with anytime, anywhere access to important district information—can be deployed to work together or implemented as stand-alone systems to help meet educational goals and requirements. For more information, visit SunGard K-12 Education at sungardk12.com.
About SunGard
SunGard is one of the world's leading financial software companies, with annual revenue of $2.8 billion. We provide solutions for financial services, the public sector, and education. Our software is delivered via Software as a Service ("SaaS"), in the cloud and on premises, surrounded by an extensive suite of service offerings. Through the depth and breadth of our solution portfolio, global capabilities, and domain expertise, we are uniquely capable of supporting virtually every type of financial organization, including the largest and most complex institutions in the world. SunGard's approximately 13,000 employees proudly serve approximately 14,000 customers in more than 100 countries, bringing fresh ideas and inventive solutions to help our customers adapt and thrive. For more information, please visit http://www.sungard.com.
About Tech & Learning
For over 35 years, Tech & Learning has been—and continues to be—the leading resource for K-12 leaders. Its publications, websites, and events provide factual and evaluative information on trends, products, and strategies to educators who purchase technology products in their districts and schools. Tech & Learning delivers the highest quality content and essential resources to manage, train, and teach technology. For more information, visit http://www.TechLearning.com.
About NewBay Media LLC
NewBay Media is positioned at the center of the world's most dynamic industries—Music, AV/Pro Audio, Consumer Electronics/Gaming, Video, Broadcast and Cable Television, and Education. NewBay connects and informs millions of constituents in these industries through award-winning content, integrated media capabilities, and high-profile network-building and informative events. It proudly serves some of the broadest BtoB professional and music enthusiast communities in the world through over 60 print and digital publications, 100 integrated web and mobile applications, 75 conferences and conventions, custom marketing services and e-commerce capabilities. Find out more at http://www.newbaymedia.com.
Trademark Information: SunGard, the SunGard logo, PLUS 360, and eSchoolPLUS are trademarks or registered trademarks of SunGard Data Systems Inc. or its subsidiaries in the United States and other countries.
iPad, iPhone, and iPod touch are trademarks of Apple Inc., registered in the U.S. and other countries. App Store is a service mark of Apple Inc. Android and Google Play are trademark of Google Inc. Amazon, Kindle, and all related logos are trademarks of Amazon.com, Inc., or its affiliates. All other trade names are trademarks or registered trademarks of their respective holders.
© SunGard 2015. All rights reserved.