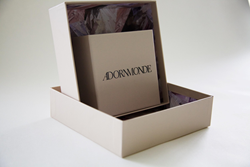 Edison, N.J. (PRWEB) October 26, 2015
Dotcom Distribution, a logistics and fulfillment firm specializing in growing e-commerce brands, has partnered with fashion jewelry retailer Adornmonde. Adornmonde selected Dotcom Distribution for its ability to provide a quality customer experience to shoppers and expertise with lifestyle brands.
Created as an alternative to expensive mainstream fashion jewelry brands, Adornmonde designs and manufactures high-quality, fashion-forward jewelry. Adornmonde launched with Dotcom Distribution's e-commerce fulfillment operations team to provide a upscale order experience.
"We came to Dotcom Distribution because we knew their expertise would push our brand to the next level," said Niki Allworth, CEO of Adornmonde. "They are a true partner to emerging retailers like us and understand how our operations need to change in order to manage our continued growth. Now, we can run the strategic end of the business while Dotcom makes sure every package gets out the door on time, on budget and with care."
Dotcom Distribution has helped countless retailers grow from the start-up stage to household names by elevating the customer experience. Current client Adore Me saw 300 percent growth in revenue in just its first year of working with Dotcom Distribution. Similarly, former clients Birchbox, Ideeli and Fab each grew over 500 percent during their tenure with Dotcom.
Both subscription box clients and e-commerce retailers can see measurable success with premium packaging. According to Dotcom's 2015 eCommerce Packaging Study, 61 percent of online shoppers think premium packaging makes a brand seem more upscale, and 40 percent say branded packaging makes them more likely to recommend a product to friends. With Adornmonde in particular, Dotcom Distribution uses a premium gift box and jewelry bag for the luxury experience Adornmonde wishes to deliver to their fashionable shoppers.
"The new addition to our client roster make me incredibly proud and excited for what we will help Adornmonde accomplish in the coming months," said Maria Haggerty, CEO of Dotcom Distribution. "We're just not another vendor to our clients -- we are a strategic partner during this critical point in their growth. We do the research, we understand customer desires, and we help these businesses deliver. We want the Adornmonde brand to succeed as if it were our own."
Beyond the services mentioned above, Dotcom Distribution also provides emerging retailers multichannel fulfillment, flash sales, drop-shipments, global logistics, e-commerce photography, and personalization and embroidery. Learn more at http://www.dotcomdist.com.
About Dotcom Distribution
Dotcom Distribution is a fulfillment and logistics services provider for B2C and B2B emerging and established eCommerce brands. Offering timely fulfillment, custom packaging and strategic pathways to growth, Dotcom is a true partner to brands who wish to rapidly scale and take their business to the next level. Unlike other logistics providers, Dotcom Distribution counsels brands on how to make a consistently elevated experience that generates consumer excitement, builds trust and creates opportunity for growth. Using our strategically located Edison, N.J., warehouse, we provide most clients with same-day shipping and an average 1- to 3-day delivery times via standard ground service to 70 percent of the U.S. population. For more on Dotcom's services and brand impact, visit http://www.dotcomdist.com.
About Adornmonde
Adornmonde, an online accessory retailer, designs and manufactures high-quality, affordable jewelry in one easy-to-shop destination. Created as an alternative to mainstream fashion jewelry brands, Adornmonde uses premium materials like Swarovski crystals, cubic zirconia, 925 silver, brass and stainless steel jewelry. Adornmonde jewelry is available exclusively online so fans can enjoy the latest trends as quickly as possible. To learn more about Adornmonde, visit http://www.adornmonde.com/.