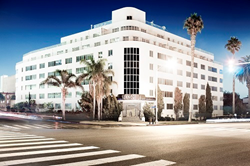 At Hotel Shangri-la, our guests can relax in style and savor a delicious Thanksgiving dining experience that includes fresh and savory choices to satisfy just about every taste
Santa Monica, CA (PRWEB) October 27, 2015
Hotel Shangri-la Santa Monica invites guests to gather this Thanksgiving around the hotel's ocean view dining table for a tranquil meal with family and friends. Give thanks for the chance to relax and unwind in The Dining Room enjoying the company of loved ones without the stress of holiday cooking. Take in the view of the Pacific while feasting on a distinctive Thanksgiving meal designed by award-winning Chef Kareem Shaw.
"At Hotel Shangri-la, our guests can relax in style and savor a delicious Thanksgiving dining experience that includes fresh and savory choices to satisfy just about every taste," said Tamie Adaya, Hotel Shangri-la owner and CEO. "This year, we have introduced a special children's menu that caters to the tastes of younger guests."
The Chef's exclusive Thanksgiving menu will be served on Thursday, November 26 from 3:00 pm to 10:00 pm in The Dining Room. The prix fixe fare is $70* per person and consists of a fine dining experience meticulously prepared by the culinary team, who use only the freshest ingredients and local produce handpicked from the weekly Farmer's market. Young guests 12 and under dine for $25*.
The traditionally classic four-course Thanksgiving menu begins with an appetizer of Butternut Squash Soup; choice of two fresh salads – Mixed Greens or Organic Kale; main course selection of Roasted Turkey with classic trimmings, Roasted Rib-eye or Roasted Halibut. To top off the holiday feast, diners can choose between classic Pumpkin Spice Pie or Cranberry Brulee for the grand finale.
Reservations for this special Thanksgiving dinner are highly recommended as The Dining Room has limited space and sells out quickly. Reservations can be made by calling (310) 451-0717 and a credit card is required for booking. No cancellation fees apply if a reservation is cancelled more than 48 hours in advance. *Dinner prices are plus tax and gratuity.
About Hotel Shangri-la
The original and urbane Hotel Shangri-la in Santa Monica is anything but ordinary and a member of Small Luxury Hotels of the World. Overlooking the Pacific since 1939, the hotel is a striking beacon of Art Deco elegance, a chronicle of the golden era of Hollywood and a quintessential nexus of culture. Hidden away on a high Santa Monica bluff overlooking the ocean and historic Santa Monica Pier, this timeless luxury boutique hotel promises guests their own personal Shangrila. Guests enjoy brilliant views of the Pacific Ocean, a celebrated history and a cultural connection during their stay. In the U.S., for toll-free room reservations only, please call (800) 345-STAY (7829) or for more information, visit http://www.Shangrila-Hotel.com.