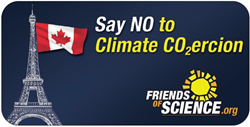 From 1985 to 2011 Canada's Industrial emissions of carbon monoxide emissions dropped 26%; carbon particulates dropped 44%; sulfur dioxide emissions dropped 69% while total economic output went up by 89%
Calgary, Alberta, Canada (PRWEB) October 27, 2015
Friends of Science Society have a new billboard campaign - "Say NO to Climate CO2 Coercion" aimed at the upcoming COP-21 climate change talks that countries like Poland may agree with, as reported by Reuters, Oct. 13, 2015. The "Conference of the Parties" (COP) to the UN Framework Convention on Climate Change are meeting for the 21st time will meet in Paris Nov. 30 to Dec. 11, 2015, to try and hash out an international agreement on carbon dioxide reductions, which the Intergovernmental Panel on Climate Change (IPCC) says causes global warming, despite reporting in 2013 that global warming was on 'hiatus' for 15 years (today more than 18 years), even though carbon dioxide concentrations had steeply risen.
Friends of Science Society propose in their report "Clear the Air in Paris" that non-OECD nations be required to meet pollution reduction standards similar to those Canada has met.
"From 1985 to 2011 Canada's Industrial emissions of carbon monoxide emissions dropped 26%; carbon particulates dropped 44%; sulfur dioxide emissions dropped 69% while total economic output went up by 89%," says Michelle Stirling, Communications Manager for Friends of Science. "All nations should have to meet such targets, including viable reclamation, which is the law here in Alberta."
Friends of Science Society explains that carbon dioxide reduction schemes have led to disastrous consequences over the past 20 years, carbon dioxide concentration has only increased and pollution has not been equitably addressed.
The draft agreement of the COP-21 event now includes a clause creating an International Tribunal of Climate Justice, binding on developed nations, as Article 11, Option 2, in the Oct. 20, 13:30 hr. version of the draft agreement from Bonn. [LINK: cfact.org/wp-content/uploads/2015/10/UNFCCC-Draft-agreement-10-20-15.pdf] .
Friends of Science Society asks what should the "climate justice penalty" be for the tragic outcomes of compliance with "low-carbon dioxide (CO2)" mitigations, taken as if recommendations of the IPCC, some of which are described below.
The migrant crisis flooding Europe is reportedly driven by US EPA biofuel policies according to MIT Technology Review Aug. 13, 2013. Low-carbon ethanol production has moved megatons of corn for human and animal consumption off world markets, driving up food prices everywhere, leading to civil unrest.
As early as 2007, Jean Ziegler, UN Special Rapporteur on the human right to food called for a 5 year moratorium on biofuels, saying it is a 'crime against humanity, as reported by the UN, Oct. 26, 2007. [LINK: un.org/press/en/2007/071026_Ziegler.doc.htm] His voice went unheeded.
Likewise, the EU's policies of stringent climate change targets have pushed millions of citizens into "heat-or-eat" poverty, as reported by E&E Jan. 3, 2014 [LINK: .eenews.net/stories/1059992359].
"Low-carbon" fuel policies led to the proliferation of diesel vehicles across Europe that emit less carbon dioxide, but emit toxic soot and nitrogen oxides, as reported in Bloomberg View of Sept. 23, 2015.
The Daily Mail, Jan. 26, 2011, reported that the people of Baotou, China now live in a toxic wasteland where rare earth minerals are mined for the magnets used in wind turbines, said to be low-carbon energy.
Google engineers have shown that wind turbines 'simply won't work' and do not address climate change issues either, as reported in The Register of Nov. 21, 2014. [LINK: theregister.co.uk/2014/11/21/renewable_energy_simply_wont_work_google_renewables_engineers/]
Friends of Science says citizens should demand that governments "Say NO to Climate CO2 coercion" of the COP-21 climate conference, saying the sun and other natural variables drive climate change, not carbon dioxide.
About
Friends of Science Society has spent more than a decade reviewing a broad spectrum of literature on climate change and have concluded the sun is the main driver of climate change, not carbon dioxide (CO2).
Friends of Science Society
P.O. Box 23167, Mission P.O.
Calgary, Alberta
Canada T2S 3B1
Toll-free Telephone: 1-888-789-9597
Web: friendsofscience.org
E-mail: contact(at)friendsofscience(dot)org