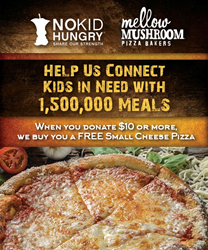 The event raised over $1200, which would connect hungry kids with 12,000 meals.
Bowling Green, Ky. (PRWEB) October 28, 2015
Mellow Mushroom Bowling Green is the perfect setting for a music-themed fundraising event, since the décor follows a classic rock theme.
Mellow hosts a Brews & Tunes event twice a year in the spring and fall. This gives an opportunity to feature specialty beers that may only be produced on a limited basis plus offer the traditional seasonal beers. Brewer representatives talk about their regular brews and the ones they only produce once a year. Three or four bands perform in the blocked off parking lot. Everyone has a good time while raising money for charity.
This year, the Brews & Tunes event raised funds for Share Our Strength's No Kid Hungry campaign, which hopes to end childhood hunger in America by connecting kids in need with nutritious food and teaching families how to cook healthy, affordable meals. The event raised over $1200, which would connect hungry kids with 12,000 meals.
Bowling Green Mellow Mushroom is very active in the community. The restaurant participates regularly with local fundraising events such as Make a Dream Taste of Bowling Green, Big Brothers/Big Sisters Spirits at the Depot, Hosparus of Southern Kentucky Bourbon & Basketball. They also provide free pizza several times a year for area church events, usually youth related events, local artists group Gallery Hop held each month in the downtown area, and they provide numerous gift cards for local charity groups and local schools that have silent auctions.
Owners Bob and Catherine Holderfield opened the restaurant in March 2012, located at 1035 Chestnut Street.
All Mellow Mushrooms are known as places that provide an entertaining experience in a unique, artistically decorated environment. For example, a back-lit "IMAGINE" sign with classic rock album covers on the face of the letters hangs on the wall. There are a pair of guitar vortexes lining the sides of the pizza cook line, and an LED flying mushroom inspired by Aerosmith, a mural on the ceiling of the bar that was inspired by a concert poster of Steve Miller Band from the 70s as well as some Bob Masse concert inspired Mellow Mushroom posters in the main dining room. The main focus in the dining room is a 32 foot mushroom sculpture that takes up two thirds of the space.
The building is an old Sears Automotive Center that was built in 1955 and totally gutted. The main building is where the six bay garage was. Designers installed two glass overhead doors in the center openings and store-front doors in the other openings. On the front corner of the building was a totally glassed-in showroom that was turned into a bar. At nighttime people driving by can see in the bar and dining room and spy all the activity. One year after the store opened, it received an award for the remodeling job from the local Operation Pride group. Mellow was presented a plaque and recognized by the Mayor and City Commission for the work done.
The bar is a horseshoe bar that seats 22. There are high top tables that will seat another 32 guests. Mellow specializes in award winning, hand crafted cocktails and has the best craft beer selection in town, served from 32 taps. In 2014 the restaurant was voted "Best Happy Hour" in the "Best of Bowling Green" contest.
The patio is a comfortable place to hang out. The tables and chairs are bordered by planters that separate the sidewalk from the patio. Umbrellas cover the tables to keep the afternoon sun off the guests. At evening, if the weather is cool, we light the gas fire pit so guests can hang out and chill in comfort.
Catch day to day sporting events with three TVs over the bar, one in each corner of the dining room and one in the private dining room, which seats 14-16 guests.
Mellow Mushroom's menu showcases natural flavors and the freshest of ingredients in a creative menu assortment of pizzas, hoagies, salads, calzones, appetizers and vegetarian and vegan options. Gluten free crust and a kids menu are also available.
Mellow is more than just craft pizza and beer; there is also craft apparel. House of Shroom style, Mellow Mushroom's exclusive apparel line, is available for purchase in store. The full collection is available online at http://www.houseofshroom.com/.
Mellow Mushroom operates 7 days a week Sunday-Thursday, 11 a.m. to 10 p.m. and Friday and Saturday 11 am to 11 pm. For more information on Mellow Mushroom Pizza Bakers, visit the store website at http://mellowmushroom.com/store/bowling-green and like us on Facebook at https://www.facebook.com/MellowMushroomBG.
###
About Mellow Mushroom Pizza Bakers
Mellow Mushroom Pizza Bakers (http://www.mellowmushroom.com) was founded in 1974 in Atlanta, Georgia. This franchise, operated under Home-Grown Industries of Georgia, Inc., is headquartered in Atlanta, Georgia. For 41 years, Mellow Mushroom Pizza Bakers has been serving up fresh, stone-baked pizzas to order in an eclectic, art-filled, and family-friendly environment. Each Mellow is locally owned and operated and provides a unique feel focused around great customer service and high-quality food. For more information on Mellow Mushroom Pizza Bakers, like us on Facebook at http://facebook.com/mellowmushroomHQ, follow us on Twitter at https://twitter.com/MellowMushroom, and follow us on Pinterest at https://pinterest.com/mellowmushroom.