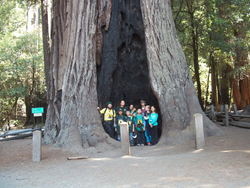 At the 2500 foot peak of Eagle Rock, we all admired the amazing view, and some used watercolors to capture their experience. ~ Naturalist Sergio Typhoon
Boulder Creek, California (PRWEB) October 30, 2015
The Web of Life Field School's (WOLF) 2016 Summer Camp Registration opens November 16, 2015. With camps located in Aptos and Boulder Creek, California, WOLF School offers Day Camp, Resident Camp and Family Camp options for the 2016 summer. Sessions start June 6 with our popular Summer Nature Day Camp at Camp Monte Toyon in Aptos, CA near Santa Cruz. For children in grades K-6, Summer Nature Camp offers an outdoor adventure every day, from old-fashioned camp arts and crafts, to cooperative games, fun leadership activities, and a science and nature theme throughout the week. The 2016 program features expanded offerings including survival day, archery, and climbing wall.
WOLF DIY Family Camp takes place at Little Basin, located near Big Basin Redwoods State Park on selected summer weekends, Thursday-Sunday. Family camp is do-it-yourself fun for the whole family. From family softball games to guided nature hikes, shared meals, musical campfires and professionally led classes for the kids, there is always plenty to do at Little Basin. The WOLF School's guided daily childrens' activities allow adults time to rest, relax, and recreate during Family Camp too.
Little Basin Resident Summer Camp for kids in grades 5-8 starts June 20 and features new offerings and favorite activities including geocaching, tie-dye, solar cooking, forestry, hiking and more. From sleeping under the stars, to cooking dinner on a campfire, kids have a great time exploring the redwoods, visiting Big Basin Redwoods State Park, playing games, learning about nature, and making new friends.
Information and Registration Materials will be available at WOLFSchool.org starting November 16.