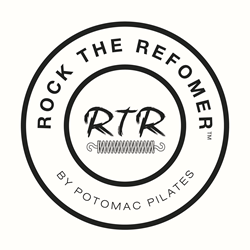 Highlands Ranch, CO (PRWEB) October 28, 2015
Look out Denver! Washington D.C.'s number one reformer Pilates studio, Rock the Reformer ® by Potomac Pilates, is headed your way! With upbeat and innovative reformer Pilates classes, this studio delivers an addictive, upscale fitness experience that inspires the mind and challenges the body. The readers of Washingtonian Magazine named Rock The Reformer® Best Pilates Studio 2015 in the metro-Washington D.C. area July 2015 issue.
The brother-and-sister team of Luke Offutt and Reina Offutt Pratt have teamed up to bring Rock the Reformer's ® fifth location in the Highland's Ranch area, and first outside of the Washington DC region. Currently, the organization runs four separate reformer Pilates studios in Chevy Chase, MD, Potomac, MD, the Palisades neighborhood of Washington, D.C, and McLean, VA. All classes at each location are taught using Allegro II Reformers from Balanced Body, which provide for challenging resistance workouts that don't add bulk.
The South Denver Chamber of Commerce is hosting a ribbon cutting ceremony at the new location, Friday November 6, 2015 at 4:30p.m. All are invited and welcome. The ribbon cutting ceremony will include a champagne toast, catering by Mad Green and giveaways.
Rock The Reformer® Highlands Ranch
9567 S. University Highland Ranch, CO 80126
About Rock the Reformer ® by Potomac Pilates:
The mission of Rock the Reformer ® by Potomac Pilates is to provide an upscale fitness experience combined with an intimate, inspiring, and accessible way of instructing Pilates in Washington, D.C., its surrounding areas, and beyond. To nurture and tone every client's mind and body one breath, one exercise, one Pilates class at a time.
For more information visit: http://www.RockTheReformer.com, or email Luke(at)RTRPilates(dot)com or Reina(at)RTRPilates(dot)com.