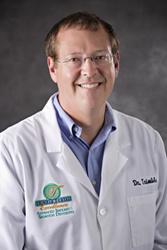 Menomonie, WI (PRWEB) October 27, 2015
Dr. Bruce Trimble is celebrating National Dental Hygiene Month during October by educating his patients on the importance of improving their oral health through strong hygiene habits and consistent professional treatment. Dr. Trimble is a dentist in Menomonie, WI, who performs various preventative and corrective dental treatments, including cleanings, root canals, and tooth extraction. Dr. Trimble even offers sedation dentistry to address dental anxiety and treat patients who might otherwise avoid dental appointments.
Most Americans suffer from some kind of oral health problem, according to the Centers for Disease Control and Prevention. The majority of adults experience symptoms of gum disease, and over 40 percent of low-income adults suffer from tooth decay. About three out of ten adults have not visited a dentist in the past year. With such troubling findings, Dr. Trimble urges patients to focus on developing and maintaining healthy oral hygiene habits, such as brushing their teeth twice per day, flossing daily, and using mouthwash. Additionally, Dr. Trimble encourages patients to schedule regular cleanings and seek prompt treatment for developing oral health issues, such as tooth decay.
To ensure that every patient can receive necessary treatment, Dr. Trimble offers sedation dentistry to reduce any anxiety that patients may feel during dental visits. In addition to local anesthesia, Dr. Trimble provides two forms of sedation. Nitrous oxide and IV sedation that can treat dental anxiety. Typically, these treatments benefit patients who experience stress or difficulty getting numb or overactive gag reflexes, during dental procedures. Dr. Trimble also recommends sedation dentistry to patients who must undergo complicated or prolonged procedures.
Since preventative dental treatments are often more affordable and effective than corrective procedures, it is advisable for people who notice indications of oral health problems to seek professional treatment promptly. People who need to visit a dentist in Menomonie, WI, are encouraged to call Dr. Trimble's office or visit his website today to schedule consultations.
About the Doctor
Trimble Dental Excellence is a general practice offering personalized care for patients in Menomonie, WI. Dr. Bruce Trimble offers a variety of services, including advanced dental implants and sedation dentistry. Dr. Trimble is a graduate of the University of Minnesota and has dedicated his professional career to providing you with the best that dentistry has to offer. He is continually educating himself and his staff on the newest techniques and advances to offer you state-of-the-art, antiseptic, personalized & comfortable dental care. Dr. Trimble is a fellow of the International Congress of Oral Implantologists & the Misch International Implant Institute. He is also among the few dentists in Wisconsin who are licensed for IV sedation and has received a certificate from the Temple School of Dentistry for surgical oral implantology. To learn more about the services offered at Trimble Dental Excellence, please visit their website, http://www.trimbledental.com or call (715) 802-4360 to schedule an appointment.