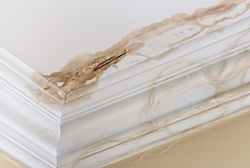 such as a mold infestation, may remain out of sight behind walls or in ductwork.
Chicago, IL (PRWEB) October 27, 2015
This year's low mortgage rates have given many longtime renters the catalyst to become first-time home buyers. But before submitting a bid on a house, The Federal Savings Bank, a Midwest based lender, wants its pre-approved home buyers be sure their aware of any damage that has lowered its value.
Some of the most costly repairs can come from water damage, which can be both difficult to detect and easy to conceal. Some of the most obvious signs of water damage, such as water stains on ceilings or walls, can be hidden with a coat of paint. Associated liabilities, such as a mold infestation, may remain out of sight behind walls or in ductwork.
Check if paint is peeling
First, one will need to know how to spot signs of serious water damage. Peeling wallpaper, blistering paint, warped walls, buckled or cracked floors or a musty smell associated with stagnant water or mold all indicate an extensive problem.
Hire a home inspector
Many signs of water damage may not be caught by the seeing eye of a home buyer. Apart from visual inspection, one should consider hiring a home inspector and a contractor. They'll be able to determine the cause of the water damage and give an estimate of how much it will cost to repair it. If still undecided on the bid on the house, adjust the offer according to how costly the repairs will be. While a home inspector may cost a couple hundred dollars it's worth it.
Whether customer, reality, or trusted referral source, The Federal Savings Bank understand how important every purchase or refinance transaction is to help our clients optimize the purchase or refinance of their home.