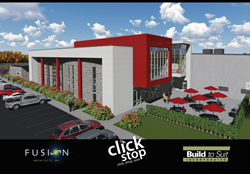 "We really want to make a great workplace because it's the foundation of getting good work done."
Urbana, IA (PRWEB) October 29, 2015
Urbana-based Clickstop officially broke ground October 19th for its new 53,080 square foot expansion. The company celebrated the event later in the week with employees, customers, and business associates attending a Tailgate-style event with food and games, as well as Q&A sessions and building tours for local media.
Clickstop owns and operates several brands from its two facilities in Urbana. The company serves diverse markets ranging from the cargo control and energy efficient insulation, to fasteners and home storage solutions.
CEO Tim Guenther says the expansion will bring much-needed space to both the office and manufacturing areas, with additional conference rooms, a dedicated training room, "focus pod" areas, and about 50 new work spaces.
Clickstop was founded in 2005 when Guenther began selling ratchet straps and other cargo control merchandise, for the brand which would become US Cargo Control. US Cargo Control is the company's top brand, accounting for more than 90% of the company's revenue. Clickstop's other brands include: EcoFoil, FastenersPlus, SpaceSavers, JustPlasticBoxes, and TeamStrap.
The company has continued to experience rapid growth over the last decade. This is Clickstop's second expansion to its Blue Creek Drive office since the building was constructed in 2011.
Clickstop began as an internet retailer, growing from a handful of employees to more than 120 currently. Two years ago, the company began manufacturing ratchet straps and other tie-down products for the US Cargo Control brand, and since then, the brand's customer base, and product lines have continued to boom. Today, a growing Business Development arm of the company is accounting for a wide margin of that growth through its expanding Business-to-Business business model based on building relationships with customers and offering customized products for their specific needs.
The company's growth can also be attributed to its award-winning culture, and Guenther says the new addition will feature fun and flexible spaces such as a game room, pub-style recreation room, large fitness room, treatment room for haircuts, chiropractic care, massages, etc., and a lactation room. The new addition is also designed with ample natural light and will make use of several innovative "green" features to create a comfortable and unique working environment.
"We really want to make a great workplace because it's the foundation of getting good work done," said Guenther. "We think this new office will make Clickstop one of the most unique and attractive workplaces in the state."
The new building addition is expected to be completed in August of 2016. Fusion Architects in Hiawatha is the architectural firm working on the project; Build to Suit from Coralville is the general contractor.
###
About Clickstop, Inc.
Clickstop is the parent company of a suite of brands based in Urbana, Iowa. Its focus on great workplace culture has landed the company multiple work environment-focused awards including two first place achievements as the Coolest Place to Work. Clickstop serves diverse markets that include the moving and cargo control industry, energy efficient insulation products, and home organizing solutions. For more information visit Clickstop.com.