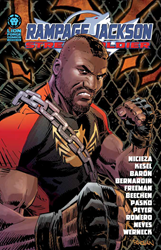 "The action in this book is more than just punching people, although it's got plenty of that, don't worry." -- Rampage Jackson
St. Louis, MO (PRWEB) October 28, 2015
Mixed martial arts fighter Quinton "Rampage" Jackson has conquered opponents in the ring and receipts at the box office with his star turn in The A-Team. Now the former UFC Light Middleweight Champion takes on a whole new challenge: giant monsters and super villains. In a new graphic novel releasing today from Lion Forge Comics, Jackson isn't just a tough street brawler; he's a super-werewolf fighting for the people.
"The action in this book is more than just punching people, although it's got plenty of that, don't worry," Jackson said. "I wanted to be a real hero like the ones I grew up reading in comics. The threats are larger than life, but it shows kids how to keep standing even when the odds seem to be impossible."
A series of wild globe-trotting adventures starring a superhuman Rampage and his team of sidekicks, Rampage Jackson: Street Soldier was designed to be a break from the complex continuity and heavy themes found throughout the superhero genre today. Lion Forge recruited a veteran team of superhero creators to make it work, including Fabian Nicieza (X-Men, Deadpool), Mike Baron (Nexus, Badger), Barbara Kesel (Hawk and Dove, Superboy), and artists Leonardo Romero (Batman '66) and Fabiano Neves (Army of Darkness).
"With Rampage's book, we're giving fans a superhero story unlike everything else on the stands today," said Lion Forge CEO David Steward II. "People are clamoring for fun, unexpected entertainment that isn't lost in confusing storylines. This is the one they've been waiting for."
Lion Forge Comics titles (including Rampage Jackson: Street Soldier) are available on all digital platforms, and the print volume, produced with IDW Publishing, is available today everywhere books are sold.
About Lion Forge Comics
Lion Forge is a St. Louis-based transmedia studio with a focus on digital publishing. With both original and licensed titles, Lion Forge brings together the brightest talent to acquire and develop content and character franchises within the comic book, television, film, and interactive gaming industries. Lion Forge applies cinematic elements to each property to create compelling, story-driven experiences from start to finish, bringing unique entertainment experiences to both traditional and digital marketplaces. For more information, please visit lionforge.com or the Lion Forge Facebook and Twitter pages.
About IDW Publishing
IDW is an award-winning publisher of comic books, graphic novels and trade paperbacks, based in San Diego, California. Renowned for its diverse catalog of licensed and independent titles, IDW publishes some of the most successful and popular titles in the industry, including: Hasbro's The TRANSFORMERS, G.I. JOE and MY LITTLE PONY; Paramount/CBS's Star Trek; Nickelodeon's Teenage Mutant Ninja Turtles; 2000AD's Judge Dredd; The Rocketeer; Toho's Godzilla; Zombie vs Robots by Chris Ryall and Ashley Woods; Ragnarök from Eisner Award-winner Walter Simonson; and Little Nemo from the award-winning duo of Eric Shanower and Gabriel Rodriguez. IDW is also home to acclaimed imprints such as the Library of American Comics, which publishes classic comic reprints, Yoe! Books, a partnership with Yoe! Studio, IDW Artist's Editions, and Top Shelf Productions.
IDW's critically- and fan-acclaimed series are continually moving into new mediums. Currently, Jerry Bruckheimer Films and Disney are creating a feature film based on World War Robot; Dwayne "The Rock" Johnson and Warner Brothers are producing a film based on Ashley Wood's Lore; Michael Bay's Platinum Dunes and Sony are bringing Zombies vs. Robots to film, Alex Kurtzman is producing a movie based on Locke & Key at Universal.
# # #
For additional info, review copies, or images:
Jesse Post, Marketing Director
857-544-6281 | jessepost(at)lionforge(dot)com