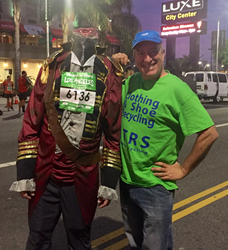 Los Angeles, CA (PRWEB) October 29, 2015
For the third consecutive year, American Textile Recycling Service (ATRS) stepped up to the challenge of keeping the World's Largest Halloween Half Marathon course clean and green.
As the Rock 'n' Roll Los Angeles Halloween Half Marathon blew through downtown Los Angeles, over 11,000 registered runners lined up early Sunday morning October 25 in the City of Angels, clad in fright-tastic costumes. Many green-minded participants either discarded warm up layers on the corrals or brought unwanted running shoes and gear for recycling at the Expo and Start Line.
ATRS employees and volunteers weren't spooked by the challenge. Decked in bright green RECYCLE HERE tees, they collected approximately 1,885 pounds of recyclable material, including unused Rock 'n' Roll participant tees, towels and medals, at the race. An additional 13,400 pounds of non-perishable goods were collected and will support American Textile Recycling Service's community initiatives throughout the coming year.
Runners, participants and spectators could rest easy knowing their generous donations benefitted a great cause. All recycled running gear collected on Race Day and at the Health and Fitness Expo helped raise funding for local ATRS charitable partner Giving Children Hope. GCH's services are highly valued throughout Orange County and around the world. Their We've Got Your Back (WGYB) program relies on ATRS funding to provide over 1,300 backpacks filled with nutritious food to local students in need each week.
In addition to supporting local charities, the ROCK, RUN, RECYCLE campaign conceived by ATRS and The Competitor Group diverts thousands of pounds of race-related recyclables from seven cities' waste streams each year. The campaign will enter its fourth year with the Humana Rock 'n' Roll San Antonio Marathon & 1/2 in December. ATRS thanks all participants who make it possible for Rock 'n' Roll to keep running clean and running green.
About the Rock 'n' Roll Marathon Series
Organized by Competitor Group, the Rock 'n' Roll Marathon Series annually welcomes more than 600,000 professional and amateur runners taking part in 29 events around the world. The series, which started in 1998 with the simple idea of making running fun, has transformed the U.S. running landscape by infusing the course with live bands, cheer teams and entertaining water stations, creating a block-party atmosphere for participants and spectators alike.
Race weekend kicks off with a free Health & Fitness Expo showcasing the latest in running gear, sports apparel, health and nutritional information and much more. Events culminate with an entertaining finish line festival featuring some of the biggest names in music, with past headliners including Pitbull, FloRida, Bret Michaels and Macklemore. Rock 'n' Roll Tour Pass offers runners access to run multiple races for one-low price and earn Heavy Medal bling by completing more than one race in a calendar year. For more information, please visit RunRocknRoll.com or follow @RunRocknRoll on Twitter.
About American Textile Recycling Service (ATRS)
American Textile Recycling Service (ATRS) is the nation's fastest growing textile recycler and an official recycling partner of The Competitor Group. Its socially responsible business model provides free textile recycling solutions for the public, job stimulation worldwide and much-needed funding for worthy local charities. Easy, convenient ATRS Recyclers are available throughout Southern California, Atlanta, Orlando, Phoenix, Scottsdale, Tempe and Tucson AZ, San Antonio, Austin, Dallas, Houston, Galveston and Beaumont TX, Michigan, Oklahoma, Colorado and Tennessee. For press inquires contact pr(at)atrsonline(dot)com.