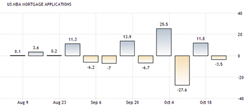 Americans have been able to improve their debt-to-income ratios and save for a down payment on a property
Chicago, IL (PRWEB) October 28, 2015
Lenders like The Federal Savings Bank were a bit disappointed on Wednesday to see the latest release of weekly mortgage applications.
As shown on TradingEconomics.com, mortgage applications fell 3.5% for the week ending on Friday, October 23rd. These latest results mark the third consecutive time that mortgage applications have fallen after a rise during the previous week. Last week, applications had risen 11.8%, a -3.5% decline seems acceptable however; lenders like The Federal Savings Bank are keeping a watchful eye for any seasonal strength in the market.
According to a release by CNBC titled "Mortgage applications down 3.5% on fewer rate swings", Refinance volume fell 4 percent for the week, seasonally adjusted, and applications to purchase a home fell 3 percent. Both purchase and refinance applications were running just below the year-to-date average levels last week, but purchase volume was 23 percent higher than the same week last year." The Federal Savings Bank interprets this as there is a more active buyers' market with financing then last year. There are more pre-approved home buyers in the market since the national unemployment rates has fallen year-over-year. With new found income, Americans have been able to improve their debt-to-income ratios and save for a down payment on a property. The Federal Savings Bank knows that young first-time home buyers have been very eager to stop paying their landlords. The youth are figuring out that the cost of a mortgage + association fee + property taxes are often less than the cost of rent!
While mortgage applications fell, 30-year mortgage rates rose for the same period up to 3.98% from 3.95% the week prior, as shown on TradingEconomics.com. This was the first time mortgage rates rose in 7 weeks. The Federal Savings Bank thinks prospective home buyers should at least be pre-approved for a mortgage before shopping for a property. Rates are at historic lows, now is a great time to apply and get approved for financing.
Whether customer, reality, or trusted referral source, The Federal Savings Bank understand how important every purchase or refinance transaction is to help our clients optimize the purchase or refinance of their home.