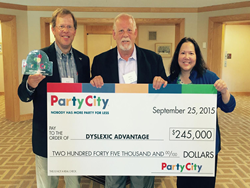 every person with dyslexia deserves to grow up with positive self-understanding, an education that fits the dyslexic mind, and a positive outlook for the future
Edmonds, WA (PRWEB) November 03, 2015
Dyslexic Advantage, a 501(c)3 non-profit organization focusing on the strengths of dyslexic people, is pleased to announce its receipt of a generous donation from Party City.
Each month, Party City supports a worthy non-profit organization by holding a point of sale fundraising campaign. Earlier this year, they held a campaign to support Dyslexic Advantage. This successful campaign raised $245,000, which will help Dyslexic Advantage tremendously in its mission to improve the education and employment of dyslexic individuals.
Since 2013, Party City Chairman Gerald Rittenberg has served on the board of Dyslexic Advantage. Mr. Rittenberg, who is dyslexic himself, is an outspoken advocate for greater recognition of the strengths that accompany dyslexia. He has spoken passionately about the connections he sees between his own dyslexic thinking style and the strengths that have allowed him to lead Party City Holdco Inc. through a period of dynamic growth for the last two decades.
Dyslexia is a common brain-based difference that affects 15-20% of the population. It is usually identified in students who are of normal to high intelligence, but show unexpected challenges in accurate and / or fluent word reading, along with challenges in rote and working memory, processing speed, math calculation, writing, spelling. However, dyslexic individuals also often show strengths in areas like spatial or visual thinking, creative and intuitive problem solving, strong personal memory and forecasting or trend spotting.
"Our mission at Dyslexic Advantage is to transform the way dyslexic people are understood, educated, and employed, by identifying and using the strengths that are the true core features of the dyslexic mind. We truly believe that every person with dyslexia deserves to grow up with positive self-understanding, an education that fits the dyslexic mind, and a positive outlook for the future," comments Dr. Fernette Eide. "We so appreciate the support and advice that Gerry has given to our organization over the past several years, and are honored to accept this generous donation from his company. It will most certainly be put to good use. We also thank all the donors who believe in our mission to advance the dyslexic community."
About Party City (NYSE: PRTY)
Party City Holdco Inc. (the "Company" or "Party City") is the leading party goods retailer in North America and, we believe, the largest vertically integrated supplier of decorated party goods globally by revenue. The Company is a popular one-stop shopping destination for party supplies, balloons, and costumes. In addition to being a great retail brand, Party City Holdco Inc. is a global, world-class organization that combines state-of-the-art manufacturing and sourcing operations, and sophisticated wholesale operations with a multi-channel retailing strategy that includes the PartyCity brick and mortar and e-commerce retail operations. The Company is the leading player in its category, vertically integrated and unique in its breadth and depth. PartyCity Holdco Inc. designs, manufactures, sources and distributes party goods, including paper and plastic tableware, metallic and latex balloons, Halloween and other costumes, accessories, novelties, gifts and stationery throughout the world. The Company's retail operations include over 900 specialty retail party supply stores (including approximately 200 franchise stores) in the United States, Mexico and Canada, operating under the names PartyCity and Halloween City, and e-commerce websites, principally through the domain name PartyCity.com. The Company also franchises both individual stores and franchise areas throughout the United States and Puerto Rico, principally under the name Party City.
http://DyslexicAdvantage.org
http://Community.Dyslexicadvantage.org
###