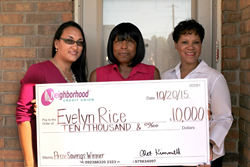 I am just overwhelmed and overjoyed.
Arlington, TX (PRWEB) October 30, 2015
Living a "decent life now to reap the rewards later" is how Evelyn Rice describes her philosophy for saving money.
Rice reaped some unexpected rewards Tuesday morning, as she opened the door of her Arlington home to a surprise delivery: a $10,000 prize from leaders of Neighborhood Credit Union, where she has been a member for 25 years.
Neighborhood Credit Union Senior Vice President Carolyn Jordan said Rice has consistently demonstrated "exemplary" savings habits, even since she retired from the U.S. Postal Service.
"We can't think of a better way to demonstrate the credit union difference during International Credit Union Day and Member Appreciation Month than to surprise one of our hard-working members with an unexpected reward for exercising financial discipline and saving for the future," said Jordan. The actual money was deposited directly into Rice's credit union account.
"I am just overwhelmed and overjoyed," said Rice, as she accepted the oversized "check" and several hugs from the credit union staff members. "I have never won anything like this – I won $5 a couple of times, but nothing like this!"
Rice, who said the staff at Neighborhood Credit Union is "like family," plans to keep most of the money in her Prize Savings Account where it will continue to grow. But she admitted she might use a little bit of her prize to go to the spa and buy an iPad.
Rice's name was drawn from the ranks of members who participate in the Prize Savings Account, a special account the not-for-profit credit union created to encourage people to save money. Neighborhood Credit Union rewards good saving habits with prize drawings throughout the year, including a $10,000 prize each quarter and culminating with the $25,000 grand prize at the beginning of each year. Since its inception, the number of credit union members with Prize Savings Accounts has nearly tripled.
See the presentation video here: https://www.youtube.com/watch?v=lSgMCCO451E&authuser=0
How the Prize Savings Account works: Neighborhood Credit Union members receive one drawing entry for every $25 monthly average balance in their Prize Savings Accounts. The greater the savings, the greater the chance a member has of winning. Members are eligible for monthly drawings and quarterly $10,000 drawings. At the start of each year, a winner is drawn for the $25,000 grand prize based on the average monthly balance in the savings account at close of business December 31.
About Neighborhood Credit Union: The oldest credit union in Dallas (chartered April 18, 1930), Neighborhood Credit Union is a not-for-profit financial organization serving Dallas and Ellis counties, as well as the city of Arlington. With branches in Oak Cliff, North Dallas, Richardson, Arlington, Mesquite, Duncanville, Waxahachie, Lancaster, Grand Prairie and Coppell and assets topping $360 million,
Neighborhood Credit Union has a membership of 32,000 and continues to welcome new members daily. For more information, call (214) 748-9393 or visit http://www.myncu.com.