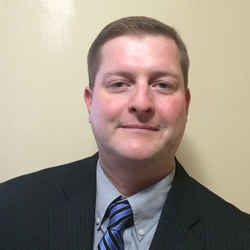 We work in a very unforgiving environment. Failure easily translates to fatality. Our constant vigilance has given us a perfect safety record. - Mark Chipps, VP
Tarrytown, NY (PRWEB) November 02, 2015
The Life Support Technologies group (LST), Tarrytown, NY, has promoted Mark Chipps from Corporate Compliance Officer to Vice-president of Corporate Compliance & Safety. Mr. Chipps' duties include regularly scheduled inspections of LST's clients' hospital-based Hyperbaric Medicine units to ensure compliance with mandated regulations and procedures, implementing safety protocols, and conducting safety drills for all LST-affiliated personnel.
Mr. Chipps handles a critical function for Hyperbaric Medical units within LST and also nationwide by sitting on the "Technical Committee on Hyperbaric and Hypobaric Facilities" of the National Fire Protection Association (NFPA), the regulatory body that sets and oversees fire safety and regulatory codes for facilities working with either increased or decreased atmospheric pressure. This seat has been occupied by LST-affiliated personnel since year 2000, when the late Dr. R.W. "Bill" Hamilton – a world-renowned hyper- and hypobaric physiologist – first sat on the Committee.
Glenn Butler, LST's founder and CEO, said, "Mark Chipps' promotion comes as a result of the positive impact that Mark has had on our company and throughout the Hyperbaric Medical community. Mark directly ensures the safety of LST's clients' hyperbaric medicine units by reviewing and implementing compliance with mandated regulations."
Mr. Chipps also conducts inspections of hyperbaric units at hospitals across the country on behalf of the Undersea and Hyperbaric Medical Society (UHMS), an international, non-profit hyperbaric and dive medicine association.
"I'm very honored to be working with LST and to have been promoted. Glenn Butler [LST's founder and CEO] has always emphasized corporate compliance and safety in every aspect of what we do. We work in a very unforgiving environment and have to constantly be vigilant that our personnel, and our medical patients, are always following safety protocols. Failure easily translates to fatality. Our constant vigilance has given us a perfect safety record," said Mark Chipps.
The majority of LST's work comes from setting up and operating hospital-based Wound Care and Hyperbaric Medicine units.
Hyperbaric Medical treatment involves putting a patient in a specially designed vessel known as a hyperbaric chamber that is pressurized greater than atmospheric pressure. The patient breathes 100% oxygen while under increased pressure. Monoplace hyperbaric chambers are the most common and are designed to treat one patient at a time. Multiplace chambers are purpose-built and can accommodate as many patients as they are built for. Hyperbaric chamber construction standards are established and published by the American Society of Mechanical Engineers (ASME) Pressure Vessel for Human Occupancy (PVHO) Committee.
Currently, in the United States, the Centers for Medicare and Medicaid Services (CMS) approve hyperbaric treatment for fifteen (15) medical indications. Most commercial insurance carriers follow CMS guidelines for hyperbaric treatment reimbursement. Conditions covered by CMS include: acute carbon monoxide intoxication; decompression illness; gas embolism; gas gangrene; acute traumatic peripheral ischemia; crush injuries and suturing of severed limbs; progressive necrotizing infections (necrotizing fasciitis); acute peripheral arterial insufficiency; preparation and preservation of compromised skin grafts (not for primary management of wounds); chronic refractory osteomyelitis, unresponsive to conventional medical and surgical management; osteoradionecrosis as an adjunct to conventional treatment; soft tissue radionecrosis as an adjunct to conventional treatment; cyanide poisoning; actinomycosis, only as an adjunct to conventional therapy when the disease process is refractory to antibiotics and surgical treatment; diabetic wounds of the lower extremities in patients who meet certain criteria.
Past LST projects have included providing consulting and proprietary decompression profiles, procedures, and medical support for workers creating tunnels underneath New York City's East River between Long Island and Manhattan for the Long Island Railroad (LIRR); providing emergency medical training for workers building the new Tappan Zee Bridge across the Hudson River, between Tarrytown, NY and Nyack, NY; expanding hyperbaric medical operations at various hospitals in New York; training physicians and allied health professional through accredited hyperbaric medicine courses in NY and in CT. Previous projects have included advising NASA, the U.S. Army, and the government of Peru, with regard to work, military operations, and tourism in various atmospheric pressure environments.
For more information see:
Life Support Technologies Group (LST)
http://www.lifesupport-USA.com
National Fire Protection Association (NFPA)
http://www.nfpa.org/
American Society of Mechanical Engineers (ASME)
https://www.asme.org/
Centers for Medicare and Medicaid Services (CMS)
http://www.cms.gov
National Board of Diving & Hyperbaric Medical Technology (NDBHMT)
http://www.nbdhmt.org/
Undersea & Hyperbaric Medical Society (UHMS)
http://membership.uhms.org/
About the Life Support Technologies Group (LST)
The Life Support Technologies Group (LST) is a Tarrytown, NY-based medical and life-support engineering company specializing in Advanced Wound Care and Hyperbaric Medicine Services to hospitals in the NY, NJ, CT region. LST has been in business for over 20 years and currently provides services to hospitals across the northeast U.S.A.
Glenn Butler, CEO
Life Support Technologies Group
(914) 333-8412
http://www.lifesupport-USA.com