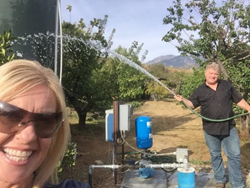 San Bernardino, CA (PRWEB) October 30, 2015
Dan and Laura Dotson are America's number one auction team and the stars of the A&E's highest rated show. They are the seen every Wednesday on Storage Wars and are known for finding solutions for abandoned storage lockers and now the Dotson's have found the solution to the water drought in California.
After consistently receiving $1,200 monthly water bills to maintain their fifteen acre San Bernardino property, The Dotson's decided to create their own water supply. They drilled seven hundred and fifty feet down into their property to create a water well that produces over forty gallons per minute. After extensive testing, the water was proven to be more pure than city water and the well will pay for itself in less than three years.
The Dotson's also use the water for their family orchard and have been quoted saying, "To our surprise after drilling into the aquifer, we realized that the content of the water we have has several healthy attributes because it contains minerals and dissolvents that make the alkalinity the same grade as high end bottled waters from around the planet." They went on to add, "The water is tasty and is soft on the mouth. We have considered sharing this water with the rest of the world under our own brand in the future. Be on the lookout for this and stay thirsty."
To learn more about Dan and Laura Dotson and to stay informed on their auctions and appearances, visit http://www.AmericanAuctioneers.com, and you can always search, list, bid, and buy online on the Dotson's Nationwide live auction website: http://www.storageauctions.net
About Dan and Laura Dotson
Dan and Laura Dotson are the featured auctioneers in the hit reality show Storage Wars on A&E. Their company, American Auctioneers, is a cutting edge company with a professional team that is dedicated to serving their clients. Dan Dotson has been around the auction business since 1974. His grandfather, Sam Fancher, was a successful cattleman and auctioneer and he taught Dan to auctioneer when he was just eleven years old, making him the youngest auctioneer in Northwest Arkansas. American Auctioneers began in 1983 and has thrived ever since. They specialize in a variety of auctions including; storage, estates, business inventories, equipment, legal/foreclosure, fundraisers and appraisals.
###
https://twitter.com/AuctionGuyDan
https://twitter.com/PayTheLadyLaura
https://instagram.com/CelebrityAuctioneers
https://www.facebook.com/DanAndLauraDotson