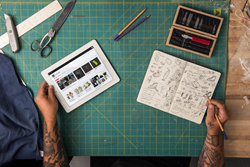 10,000ft Insights seeks to add structure to often-ambiguous creative work by bringing both the content and the thinking together.
SEATTLE, WA (PRWEB) September 23, 2015
10,000ft, the award-winning creator of collaborative software for creative teams, announced today the launch of 10,000ft Insights, a web-based project space for design thinking and collaboration. Designed with innovative teams and creative agencies in mind, 10,000ft Insights enables easy collecting and sharing of ideas, facilitates timely and relevant feedback, and helps organizations retain knowledge in the ever-faster pursuit of innovation. To learn more about 10,000ft Insights and to start using it on a new project for free, visit http://www.10000ft.com/insights.
Innovative work is chaotic by its very nature—files, ideas, and discussions are spread across whiteboards, notebooks, folders, and in each team member's head. The key to turning these materials into innovative solutions is to pull them together in a cohesive, efficient manner. But many teams lack the structure needed to do this efficiently.
In fact, a 2013 Forrester report found that 44% of business and IT decision-makers did not have a structured innovation process or procedure. 10,000ft Insights seeks to add structure to often-ambiguous creative work by bringing both the content and the thinking together – to keep the 'what' with the 'why' – so that people can stay on the same page and make informed decisions.
"Many teams have come to expect innovative work to be unstructured and scattered," explained Martijn van Tilburg, 10,000ft CEO. "We saw an opportunity to enhance the creative process by creating a visual tool that allows multiple disciplines to collaborate more effectively."
10,000ft Insights is designed to match the existing innovation process many product and design companies are already using. It helps teams:
Collect and organize ideas and content quickly and easily: Files, notes, images, and other project content can be easily added, grouped, and commented on to create a collaborative space for teams to share insights and perspectives.
Take ideas further with proven Thinking Tools: Teams can analyze their ideas and content by choosing from a gallery of Thinking Tools based on proven design thinking methods, like Feature Prioritization, multi-vote, and SWOT analysis. The tools generate data around the ideas and content that can be used to inform decisions later on.
Gather input from multiple perspectives: The Thinking Tools can be combined to capture input from people with different areas of expertise. By layering multiple tools on top of each other, teams create a balanced perspective of the problem or challenge and ensure that everyone's contribution is considered.
Evaluate alternative outcomes and make confident decisions: The Decide Tool visually synthesizes the group's analysis to help teams understand the impact of everyone's input, and evaluate alternative scenarios based on shifting priorities.
In addition to its flexible ideation and analysis tools, 10,000ft Insights has proven to be an effective communication aid as well. "10,000ft Insights helped us visually communicate not only the final outcome, but also the methodology and reasoning that lead us to that outcome," commented James Senior, VP of Product at Ratio, a Seattle-based design agency and early Beta user.
Created in collaboration with leading design and innovation consultancy Artefact, 10,000ft Insights is the synthesis of Artefact's innovation and design expertise and 10,000ft's ability to build and deliver tools for creative organizations. It is the second tool in 10,000ft's portfolio of tools for creative thinkers, joining 10,000ft Plans, a high-level resource planning and business management tool launched in 2012 and used by over 1,000 creative organizations.
As more organizations continue to see the value of an iterative, design-driven approach to problem solving, the need for a structured innovation process will be paramount. Anyone can start using 10,000ft Insights for free on a single project with unlimited collaborators. Teams can upgrade to a paid subscription to add additional projects and functionality. Learn more at http://www.10000ft.com/insights.
About 10,000ft
10,000ft is an award-winning software company that makes simple, collaborative software for innovative thinkers. They currently have two products on the market, 10,000ft Plans, a high-level resource planning and time tracking tool designed to give you the big picture of your business, and 10,000ft Insights, a digital collaboration tool for visualizing your content, ideas and decisions. 10,000ft is based in Seattle in the USA. Learn more at http://www.10000ft.com.
# # #