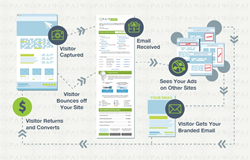 "The FairLeads lead scoring algorithm evaluates user behavior to determine when each prospect is ready to make a decision." -- Roger Janik, CEO, Fair Marketing
Houston, Texas (PRWEB) October 31, 2015
Houston-based Fair Marketing, an award-winning marketing and communications firm, has created a new product designed to help businesses increase their supply of warm leads by up to 451%. The product, called FairLeads, helps companies convert anonymous web visitors into actionable leads while offering additional lead nurturing and analytics features to increase client ROI.
Most web-based lead generation tools on the market require customers to fill out onsite registration and subscription forms. FairLeads does not. Instead, the program uses retargeting networks and browser data to passively pinpoint the visitor's identity. This gives the sales staff the information it needs to reach out to the prospect and initiate a relationship.
The FairLeads toolbox delivers a comprehensive solution to lead capturing and nurturing. Leads are automatically added to the built-in CRM platform, where they are scored for sales readiness. The software also gathers up social media data, which means the sales team can follow, "like," and interact with customers across all major social platforms.
"The FairLeads lead scoring algorithm evaluates user behavior to determine when each prospect is ready to make a decision," said Roger Janik, Fair Marketing CEO. "The software then alerts the appropriate sales representative so he or she may increase his or her chances of closing the sale. Daily lead reports keep sales representatives busy, productive, effective, and informed."
FairLeads is armed with other powerful analytical tools as well. For example, it offers an A/B testing platform to help evaluate the effectiveness of lead nurturing emails. FairLeads customers can also evaluate the effectiveness of each web page on their site by tracking entry and exit pages, bounce rates, and other vital pieces of data.
Fair Leads is more than a comprehensive software package, however. Every FairLeads client is assigned a Fair Strategist to help them make the most of the program. Customers also receive support from the Fair Marketing team, which helps them develop lead nurturing emails, banner ads, and other assets which work in conjunction with the program to maximize sales.
To find out more about FairLeads and how it helps businesses convert anonymous web visitors into sales, visit http://www.fairmarketing.com/fairleads-marketing-automation/.
About Fair Marketing
Fair Marketing is a boutique marketing communications firm that specializes in search engine optimization (SEO), content and social media marketing, pay-per-click (PPC) advertising, and online reputation management.
For more than a decade, the Fair Marketing team has helped small to enterprise level businesses establish and cultivate online success through patented, formula-based marketing solutions. The company has garnered recognition in recent years from local publications, industry ranking services, consumer review sites, and the Better Business Bureau. Fair Marketing is also consistently named among the top five web marketing firms in the United States.
For more information, contact:
Roger Janik, CEO
Fair Marketing
888-736-2384