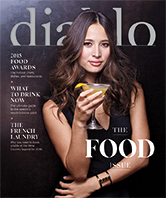 Diablo magazine's signature event, Gourmet East Bay, offers our partners the opportunity to directly connect with our readers while also supporting an important charity—Barney Fonzi, President of Diablo Publications
Walnut Creek, CA (PRWEB) October 30, 2015
Diablo Publications has released its award-winning special food issue, which highlights its 2015 Food Award winners in the San Francisco East Bay community. Judged by well-known food writers and Diablo food editors, with input from readers, this year's November edition highlights award-winning restaurants, standout chefs and dishes.
The 19 winners are divided into four unique categories: Critics' Picks, Readers' Picks, Classic Picks, and Chefs. Critics' Picks include: Locanda Ravello in Danville; Blue Gingko in Dublin; Calavera in Oakland; McKay's Taphouse and Beer Garden in Pleasanton; and Ramen Hiroshi in Walnut Creek.
Readers' Picks include: Artisan Bistro, The Cooperage American Grille, and Pizza Antica in Lafayette; Gianni's Italian Bistro in San Ramon; and Kacha Thai Bistro in Walnut Creek.; Classic Picks include: Esin Restaurant and Bar in Danville; The Restaurant at Wente Vineyards in Livermore; Oliveto in Oakland; and Va de Vi in Walnut Creek.
Chefs include: Carlos Altamirano, Parada; Jorge Hernandez, Rancho Cantina; Francis Hogan, Sabio on Main; and Preston Morris II, Dana's.
Diablo magazine's annual food issue also has a companion event, Gourmet East Bay, which brings the November issue to life by featuring many of the award-winning restaurants mentioned. Gourmet East Bay is presented by Diablo magazine and Broadway Plaza, and sponsored by BiRite Foodservice Distributors. Gourmet East Bay will have 20 of the top restaurants from the area, featuring premier tastings by wineries from Livermore, Napa, and New Zealand; as well as spirits tastings from Maker's Mark. There will also be an exclusive raffle with proceeds supporting event beneficiary Food Bank of Contra Costa and Solano. The event will take place at Broadway Plaza on Saturday, November 21, 2015. Supporting media sponsors include: ABC-7, Open Table, and Yelp. To purchase tickets, click here.
"Our annual food issue is one of our most anticipated issues of the year," states Barney Fonzi, President of Diablo Publications. "Diablo magazine's signature event, Gourmet East Bay, offers our partners the opportunity to directly connect with our readers while also supporting an important charity."
About Diablo Magazine
Covering topics ranging from travel, culture, and personalities to entertainment, recreation, and food, Diablo magazine is written specifically for the San Francisco East Bay market—from Central Contra Costa, into the Oakland and Berkeley hills, and throughout the Tri-Valley. With locally driven editorial content, beautiful photography, and resource listings, Diablo is a unique celebration of the San Francisco East Bay. Published since 1979, Diablo has been recognized for its editorial and design with numerous awards, including Maggie Awards for Best Overall Publication and Best Regional and State Magazine in the consumer category.
About Diablo Publications
For 35 years, Diablo Publications, an employee-owned company, has been creating award-winning publications, including Diablo magazine, Napa Sonoma magazine, Diablo Weddings, the Diablo City Book Series, Diablo Arts, Concierge East Bay, and the Tri-Valley California Visitors Guide. Diablo Publications' custom content division, Diablo Custom Publishing (DCP), provides complete print and online marketing communications and customer publishing services for corporate clients nationwide. For more information, visit diablopublications.com, dcpubs.com, diablomag.com, napasonomamag.com or diabloweddings.com.