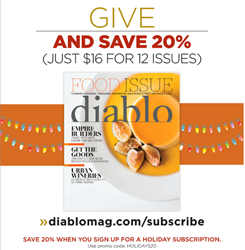 We are passionate about our community and are happy that we can support these charitable organizations—Melinda Solomon, Marketing and Circulation Manager for Diablo magazine
Walnut Creek, CA (PRWEB) October 30, 2015
With the release of its annual November Food Issue, Diablo magazine announces a new charity subscription offer in which Diablo will make a 20 percent donation to the nonprofit organization of the reader's choice. Diablo Publications supports nearly 100 charitable causes in the San Francisco East Bay all year long through media sponsorships. Diablo's efforts to assist these organizations during the holidays will now be augmented by this newly created charity subscription program.
Nonprofits included are: The Alameda County Food Bank, The American Heart Association, Animal Rescue Foundation, Cancer Support Community, Discovery Counseling Center, Food Bank of Contra Costa & Solano, Friends of Camp Concord, Girls on the Run of The East Bay, The Gretta Foundation, HomeAid, Junior League of Oakland–East Bay, Opportunity Junction, Rock the CASA, The Ruth Bancroft Garden, Save Mount Diablo, Shelter Inc., STAND! For Families Free of Violence, The Taylor Family Foundation, UCSF Benioff Children's Hospital Oakland, Wardrobe for Opportunity, and Youth Homes.
"We are passionate about our community and are happy that we can support these charitable organizations through media sponsorship," states Melinda Solomon, Marketing and Circulation Manager for Diablo magazine. "Many of these wonderful causes need assistance with promoting their fundraisers, and Diablo is pleased to support them through Diablo Publications' marketing efforts, and now also with a subscription campaign."
Diablo magazine's special offer is available at diablomag.com/subscribe. By using the promotion code DONATE20, a subscriber can order a $20 annual subscription and select a local nonprofit to which Diablo will make a 20 percent donation.
Diablo Publications also hosts three fundraising events every year, each with charitable beneficiaries. Diablo Women, attended by Bay Area businesswomen, holds a high-end drawing to raise money for local nonprofits. Gourmet East Bay, which features upscale food and beverages, incorporates a raffle and silent auction that raise funds for the Food Bank of Contra Costa and Solano. And Threads of Hope celebrates outstanding community volunteers and the charitable organizations they champion.
About Diablo Magazine
Covering topics ranging from travel, culture, and personalities to entertainment, recreation, and food, Diablo magazine is written specifically for the San Francisco East Bay market—from Central Contra Costa, into the Oakland and Berkeley hills, and throughout the Tri-Valley. With locally driven editorial content, beautiful photography, and resource listings, Diablo is a unique celebration of the San Francisco East Bay. Published since 1979, Diablo has been recognized for its editorial and design with numerous awards, including Maggie Awards for Best Overall Publication and Best Regional and State Magazine in the consumer category.
About Diablo Publications
For 35 years, Diablo Publications, an employee-owned company, has been creating award-winning publications, including Diablo magazine, Napa Sonoma magazine, Diablo Weddings, the Diablo City Book Series, Diablo Arts, Concierge East Bay, and the Tri-Valley California Visitors Guide. Diablo Publications' custom content division, Diablo Custom Publishing (DCP), provides complete print and online marketing communications and customer publishing services for corporate clients nationwide. For more information, visit diablopublications.com, dcpubs.com, diablomag.com, napasonomamag.com or diabloweddings.com.