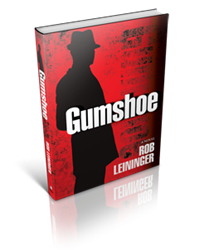 Mortimer Angel is my new favorite Private Eye. -John Lescroart
Longboat Key, FL (PRWEB) November 03, 2015
Oceanview Publishing announces that GUMSHOE by Rob Leininger is available in hardcover (978-1-60809-163-8, Mystery, 384 pages, $27.95) and eBook formats (978-1-60809-153-9, $14.95).
The Story:
For nine long days, the mayor and district attorney of Reno, Nevada, have been missing—vanished without a trace. Their vehicles were found parked side-by-side at Reno-Tahoe International Airport. Did they fly somewhere together? They aren't on any flight manifest. Did the two of them take off with a big pile of the city's money? If so, the city accountants find no evidence of missing funds. Were they murdered? There's no sign of foul play. Their disappearances have finally made national news.
Enter Mortimer Angel, who has just quit a thankless job as an IRS agent. Mort is Reno's newest gumshoe, a private-eye-in-training at his nephew's detective agency. Just four hours into his new career, Mort finds the mayor—make that the mayor's head—in the trunk of a Mercedes, which happens to belong to Mort's ex-wife. The news-hungry media speculates: Did Mort kill the mayor? Did Mort's ex? As events begin to spin out of control, Mort realizes things have been out of control since the night before he started his new career, the night he found the unknown naked blonde in his bed.
Meet the Author:
Rob Leininger grew up in California before joining the navy. He served aboard heavy cruisers during the Vietnam War and also at McMurdo Station in Antarctica. Leininger received a mechanical engineering degree from the University of Nevada and worked on Trident missiles for Hercules, and "black" defense projects for Northrop Corp. His novels Black Sun and Killing Suki Flood have been optioned for feature films by Warner Bros. Before deciding to write full time, he taught high school math in Reno, Nevada. Leininger lives with his wife in northern Montana.
The Buzz:
"At the start of this complex, seductive thriller from Leininger, Mort Angel has quit a dead-end job as an IRS agent and is about to embark on a new career as a PI trainee in Reno, Nev. Meanwhile, Mort's ex-wife has been heating the sheets with Reno's mayor, but the mayor has mysteriously disappeared along with the city's DA, and Angel's first assignment is to hunt down the two missing politicians. What looks like a straightforward hardboiled tale takes one surprising turn after another, propelled by Mort's snappy narrative voice and wry observations. While Mort's astonishing success in the romance department is more than slightly far-fetched, Leininger keeps the action rolling fast enough to keep any willing reader turning the pages. Eventually, Mort unravels a family history that would make Ross Macdonald proud. There's no violence and very little gore for most of the novel, but after a long and complicated buildup, the climax arrives with screaming intensity."
—Publishers Weekly (Starred Review)
"Gumshoe is by a large margin the best and most entertaining mystery I've read in at least the past couple of years. Rob Leininger captures the voice and heart of the classic PI mystery and manages to make it completely original at the same time. No small feat. And Mortimer Angel is my new favorite Private Eye."
— John Lescroart, New York Times best-selling author of The Fall
"Rob Leininger has spun an electrifying suspense novel, full of twists and turns! Mortimer Angel is the shining gem in this tale. His rapier wit and tongue-in-cheek manner are an ongoing source of amusement. Likeable characters, crisp dialogue, and an intriguing storyline add up to a flawless execution of this hardboiled thriller. Mr. Leininger does a masterful job of intensifying that "pins and needles" feeling that will have one on the edge of their seat right up until the very end! Gumshoe is a standout novel with a finale that will leave the reader stunned and eagerly awaiting the next effort from the talented Mr. Leininger."
—InD'tale Magazine
GUMSHOE is available through booksellers and public libraries everywhere.