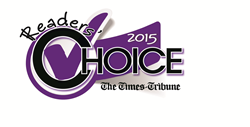 Scranton, Pennsylvania (PRWEB) November 12, 2015
Kane Is Able, Inc. (KANE), the 85 year old, family-owned, third party logistics company, received the 2015 Readers' Choice Award for 'Best Place To Work' by The Times-Tribune newspaper in the Warehouse & Distribution and Trucking & Transportation categories.
The Scranton-based Times Tribune is the leading source of news and information for Northeast Pennsylvania. Voting was limited to one entry per reader. KANE has received this award for 4 years in a row.
KANE President and CEO Mike Gardner, said, "We are honored to be recognized again as a 'Best Place to Work' in the region and we appreciate the job our dedicated associates perform daily. KANE's line of work involves managing billions of dollars in product inventory and delivering that product in precisely timed shipments, so operational excellence is essential. We strive to create a positive work environment because we know that happy, satisfied associates deliver high-quality work."
KANE officially received the award Thursday, October 8th in Scranton, PA at the 2015 Readers' Choice Award ceremony.
About Kane Is Able
Kane Is Able is a third-party logistics provider that helps manufacturers and their retail partners efficiently and effectively distribute goods throughout the United States. KANE's value-added logistics services include retail consolidation, nationwide warehousing and distribution, logistics workforce management, and transportation solutions.