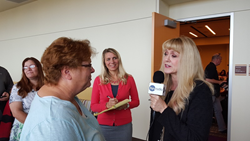 My hope is that combining the skills of Surthrival Ambassadors, great people with proven solutions, will collectively help us all do more than survive. We want to surthrive." Kim Power Stilson
Salt Lake City, UT (PRWEB) October 31, 2015
Today, Kim Power Stilson, announced that they will be selecting Surthrival Ambassadors to lead healthy-living communities around the country to not just survive but to thrive and surthrive. The Surthrival Ambassadors will be part of a collective group of wellness and healthy-living advocates who share immune building and surthrival solutions on a digital show on the Really Cool Humans TV Network.
As a breast cancer survivor, Kim learned first-hand through her journey, shared in "The Surthrival Tree," how to change her life and build her immune system to achieve a healthier life. As a talk radio host (Weekdays on SiriusXM 143 at 3:00 pm Eastern) she shared her story and when hundreds of listeners asked for more information she realized she needed to create an organized way to disseminate what she had learned about building her immune system. When Troy Dunn, (The Locator and star of UP TV's Last Hope with Troy Dunn), offered Kim a powerful digital TV platform on the Really Cool Humans network to share the collection of people and information she had gathered, the "Surthrival Series" TV show was created. Surthrival Ambassadors will be designated to help expedite the sharing of the information and solutions.
"We have been offered an incredible opportunity that includes a wonderful way to help people build their immune system and a digital TV platform to share the message," said Kim Power Stilson. "There are many wonderful humans who have found or created life-changing solutions that offer hopeful healing and my hope is to magnify their messages. Surthrival Ambassadors will share their solutions in collective communities and on the national digital platform to more visibly and rapidly reach people who need them."
To start, the Surthrival Series will be selecting twenty "Surthrival Ambassadors" across the nation to help lead the national roll out of the Surthrival Mission. Ambassadors will appear on the Really Cool Humans TV Network, help spearhead national events, and speak to and organize communities where the solutions will be shared. Ambassadors will be chosen from people who have a proven passion for teaching people options that help families live more vibrant and healthy lives.
"Surthrival Ambassadors are people who have a passion for helping people learn everything they may need from how to eat healthy, reducing inflammation, managing moods, learning to live with less stress, to building immune systems and making modern medicine choices that prevent and give strength to families living with hardship, illness and disease," said Kim Power Stilson. "The Surthrival Mission is to combine the proven skills, experience, knowledge and talent of great people to collectively help all become healthier, happier and stronger. We can do more than just survive, we want to thrive and surthrive."
Surthrival Ambassadors will be announced on December 2, 2015. Potential candidates can request more information through Thursday, November 12th from from kimpowerstilson(at)gmail(dot)com. The "Surthrival Series" TV show starts streaming January 21, 2016. Viewers can access all episodes on Really Cool Human TV network with internet streaming devices ranging from the Roku Box, Apple TV, Amazon Fire, Chromecast, Xbox 360, et al. http://www.reallycoolhumans.com.