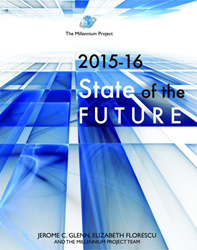 Washington, DC (PRWEB) October 31, 2015
Although born through the United Nations University, Smithsonian Institution, The Futures Group, American Council for the UN University, and the World Federation of UN Associations, The Millennium Project is now a fully independent global participatory think tank. Its contributions include:

System for people to think together about the future
-- 56 Nodes (groups of institutions and individuals) around the world connecting global and local perspectives on an ongoing basis
-- Online Real-Time Delphi for rapid global assessments of complex issues and real-time shared feedback
-- A collective intelligence system on the current situation and future prospects for the world (Global Futures Intelligence System)

Framework for understanding and tracking global change: "State of the Future" reports that annually updates 15 Global Challenges
A New Participatory System to Measure Change as Alternative to GDP: State of the Future Index – Global and National Indexes
Largest collection of methods to explore the future (Futures Research Methodology 3.0): 37 Methods, 39 Chapters, 1,300 pages, internationally peer reviewed, used by universities, governments, and businesses around the world
Educational contributions
-- Freely available open online resources used by an estimated 1,000 universities
-- Over 200 Interns trained from over 30 countries
-- Millennium Awards involving thousands of students around the world learning about global challenges

Global Futures Intelligence System -- bringing it all together in one online interactive platform is a collective intelligence system on the global situation and future prospects.
The Millennium Project is currently constructing alternative global future scenarios on the economic and employment impacts of artificial intelligence, robotics, synthetic biology, computational science, nanotechnology, and other future technologies and their synergies.