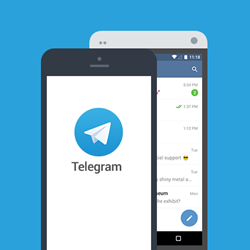 (PRWEB) November 09, 2015
Starting from early November, 2015, monitoring of Telegram messenger is available with the release of mSpy version 4.14.0 for Android and mSpy version 4.10.0 for iOS.
Telegram is an instant messaging service that focuses on privacy. It supports two layers of secure encryption based on 256-bit symmetric AES encryption, RSA 2048 encryption and Diffie–Hellman secure key exchange. Server-client encryption is used in Cloud Chats (private and group chats); Secret Chats use an additional layer of client-client encryption.
Customers, using mSpy monitoring application, will get full access to Telegram contacts (Both Blocked and Unblocked, Conversations (including those of Secret Chat), all kinds of content (text and media files) and even messages Self-Destruct Timer.
Currently mSpy operates on all popular mobile and desktop platforms and plans to continue developing applications to meet any kind of future demands. mSpy is constantly evolving and adds one new feature once a month on the average. Instagram Tracker has been added recently and now mSpy presents Telegram messenger monitoring feature to provide its customers with even higher level of comfort and protection. mSpy was designed to protect its users from different kinds of modern interactive threats and with its continuous developing the application remains one of the most popular and efficient in the market.
ABOUT MSPY
mSpy specializes in customized and user-friendly mobile & computer monitoring solutions, by utilizing the latest advancements in monitoring technology. mSpy goal is to deliver the latest software that suits users familial and corporate needs and brings guaranteed results all at an affordable price. For more information, please visit http://www.mspy.com.