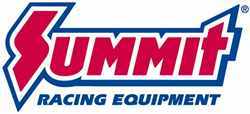 Tallmadge, OH (PRWEB) November 10, 2015
Summit Racing now carries QA1's new Pro Coil-Over Conversions, Chevrolet Performance SP350 Turn-Key Engine Assembly, and Cometic MLX Head Gaskets.
QA1 Pro Coil-Over Conversion Systems
Stock coil spring/trailing arm rear suspensions provide limited adjustability. A QA1 Pro Coil-Over Conversion System replaces the factory setup with a fully adjustable coil-over shock suspension. That lets a car owner dial-in the suspension for better bite at the drag strip or improved handling for a street rod or Pro Touring car. Kits with single adjustable shocks have 18 positions to set rebound and compression simultaneously; kits with double adjustable shocks provide 18 positions of compression adjustment and 18 positions of rebound adjustment for a total of 324 possible valving combinations.
Chevrolet Performance SP350 Turn-Key Engine Assembly
With most crate engines, users have to provide a few "extras"—things like the fuel pump, starter, alternator, and the front accessory drive. Chevrolet Performance has included all those extras with its SP350 Turn-Key Engine Assembly. It's a classic small block Chevy rated at 375 peak horsepower and 405 lbs.-ft. of torque at just 3,600 rpm. Chevrolet Performance backs the SP350 Turn-Key Engine Assembly with a two year/50,000 mile parts and labor warranty. It even set the initial timing (10° base timing, 32° total).
Cometic MLX Head Gaskets
Cometic MLS (multi-layer steel) head gaskets are pretty much the standard in sealing technology. But that wasn't enough for Cometic. It created the MLX (Multi-Layer Stopper) Head Gaskets. The MLS style gaskets have an integrated "stopper" layer for optimum combustion chamber sealing and improved clamp load around the cylinder without increasing bore distortion. That minimizes chances of a gasket blowout to much lower levels—a big plus with high compression, boosted, or nitrous engines that generate large amounts of cylinder pressure.
Summit Racing Equipment
http://www.SummitRacing.com
1-800-230-3030