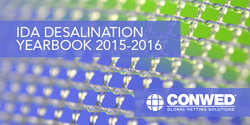 Minneapolis, Minnesota (PRWEB) November 03, 2015
Conwed, the leading plastic netting manufacturer in the world, is listed in the most recent water desalination report titled IDA Desalination Yearbook 2015-2016. Published by Media Analytics Ltd., owner of media brands such as Global Water Intelligence (GWI), Desaldata.com and Water Desalination Report, the IDA Desalination Yearbook contains information from over 300 companies taking part in GWI's annual survey and a complete reference directory with suppliers serving the desalination industry.
From engineering, procurement, construction (EPC) contractors and developers to material and service suppliers, municipalities and consultants, the IDA Desalination Yearbook audience finds competitor intelligence, market data and leading suppliers for any water desalination project. It is distributed to International Desalination Association (IDA) Members and Water Desalination Report subscribers worldwide. "Conwed manufactures reverse osmosis (RO) feed spacers that are critical to water desalination systems around the globe. Our presence in the IDA Desalination Yearbook allows us to share our product design and manufacturing capabilities with the water desalination industry worldwide," said Ivan Soltero, Strategic Marketing Manager at Conwed.
Frequently known as scrim, mesh, net, or netting, feed spacers act as one of the layers of wound materials in RO filters and provide vital separation between the membranes to achieve superior filter performance. Conwed believes the feed spacer, long considered a simple commodity, offers vast potential for innovation and research that could drive advances in RO water production.
"Most of the innovation in reverse osmosis systems has come from membrane developers. We are proactively pushing the limits of our technology to develop the next-generation feed spacers that can help address the top three challenges in any RO system: pressure drop, membrane damage and biofouling. We'd like to tackle them from a feed spacer development point of view and create the next wave of innovation," said Soltero.
In addition to feed spacers, Conwed also manufactures extruded cylinder tubes, extruded square and diamond netting, oriented netting and sleeves. Diverse filtration applications include containment and protection of filter media, pleat and media support and core support for pleated, wound or depth filter elements. With nearly 50 years of experience developing netting solutions for diverse industries, Conwed has unique customization capabilities for hundreds of industrial and consumer products.
For a complete overview of Conwed feed spacers and reverse osmosis efforts, visit http://www.conwedplastics.com/ro
About CONWED
Conwed is the leading plastic netting manufacturer in the world. Conwed manufactures extruded, oriented and knitted netting with unique customization capabilities. Headquartered in Minneapolis, Minnesota, Conwed has five manufacturing locations on two continents and a global distribution network.