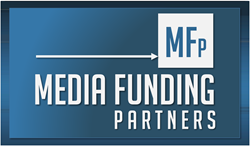 We are able to leverage our media buying relationships and provide beneficial terms of payment for our domestic distribution partners.
Los Angeles, California (PRWEB) November 03, 2015
Movie ad media buying Agency and Print & Advertising film finance company Media Funding Partners, LLC announced today that it is nearing completion of the ad buy for its first feature film with $10.3 million of the $16 million total media buy for a November theatrical domestic release soon to be announced. Nearly $7.0 million of that total was MFPs' investment in the media budget. The total $16 million media buy was planned jointly with the distributor's media agency and marketing team and incorporates a combination of network, national cable, syndication, spot and digital buys.
Founding Partner Steve Soffer made the announcement after structuring movie funding terms that allowed the distributor to shift the MFP P&A investment portion of the planned media budget to be paid on the back end - recouped by MFP through the waterfall. "Our model is unique in the industry." says Soffer "Since we are both a buyer of ad media and an investor in the advertising side of the P&A equation, we are able to leverage our media buying relationships and provide beneficial terms of payment for our distribution partners."
The company is looking to expand its 2016 portfolio and work with other domestic distributors with an additional $80 million in advertising placements of which approximately half, or $40 million will be MFP investments. Soffer said, "We are looking to do 5-10 independent films in 2016 with P&A budgets ranging from $3 million to $30 million on the high end."
Media Funding Partners is a traditional media buying agency that provides media planning, media placement, traffic management, tracking and analytics for TV, Radio, Print, Outdoor and Web advertising. The company was founded in early 2015 to fund motion picture Print & Advertising campaigns. The company's focus is on the advertising side of P&A advertising campaigns for independently released theatrical feature films distributed by domestic distribution companies.
MFP buys a wide variety of media types including: Network Television, National Cable/Syndication, Syndicated TV Shows, Spot Broadcast, Spot Cable, Network Radio. Spot Radio, Web Banner and Social Media Advertising, National and Local Newspapers, National Magazines, Trade Magazines and Out of Home Advertising. MFP places targeted media based on a traditional media plan developed in conjunction with the distributor's marketing team.
MFP is currently in negotiations to fund 3 additional films to be released in 2016.
Contact:
Steve Soffer
Founding Partner | Media Funding Partners
(818) 324 0500 – M
steve(at)mediafundingpartners(dot)com
http://www.mediafundingpartners.com