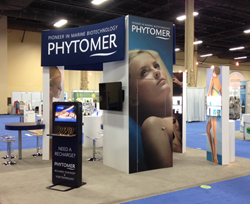 ISPA 2015 was an excellent opportunity to re-connect with partners, establish new connections and reassert Phytomer's commitment to sustainability, profitability and results.
LAS VEGAS-NV (PRWEB) November 05, 2015
With more than 40 years of spa industry experience, Phytomer elevates all standards of skin care with marine bio-technology's purely natural, sustainable spa solutions. This was evidenced at the 2015 International Spa Association ISPA Expo, October 19-21 at the Phytomer Relaxation Suite which offered three premier treatments showcasing the brand's newest biotechnological discoveries and results-driven protocols.
The Phytomer XMF Youth Revealing Express Facial featured marine biotechnology ingredients and a specially-developed Pro-Youth Massage for instant, visible anti-wrinkle and firming results. The Eye Perfection Radiance Treatment targeted the eye area with marine biotech actives and specific massage techniques for restored radiance, smoothing and firming effects.
The Phytomer Relaxation Suite also featured Morpho Designer Perfect Contour Treatment, a body treatment featuring a shower-less scrub exfoliation followed by a specific contouring massage protocol designed to provide noticeable slimming, firming and smoothing results in three treatments. "My Phytomer body treatment was incredible," Rachel Kossman, Associate Editor of DAYSPA Magazine, said of the experience. "I seriously wish I could go back to that massage table, my therapist was amazing!" she continued.
In addition to its place on the cutting edge of biotechnology, Phytomer continues to be a pioneering force in business development. Phytomer presented its new retail display system, rebate program and free backbar opening order offers, reasserting the brand's commitment to spa partners and their profitability. The brand's proven retail system provides spa partners with a simple, comprehensive strategy, as well as the tools, guidance and support conducive to shared success.
Visitors to the Phytomer booth were given a glimpse of one such tool, the Phytomer e.connect site, an online resource for spa partners that offers on-demand treatment videos and product explanations for spa partners. In addition to the hands-on training seminars provided year-round in Salt Lake City, Utah and at spas throughout the country upon request, Phytomer e.connect provides high-quality continuing education, keeping spa personnel apprised of the newest products and protocols.
Expo attendees who visited the Phytomer booth were invited to recharge their technology at the Phytomer Power Tower and recharge their bodies with Oligomer® Drink, the brand's exclusive supplement of partially desalinated seawater that restores trace elements and minerals to the body for total wellness. Phytomer also hosted a raffle with multiple drawings each day for prizes such as a Fitbit® bundled with Phytomer contouring home care products, an air purifier with anti-pollution skin care and a Blendtec® blender accompanied by products from Phytomer's brightening skin care line.
"ISPA 2015 was a excellent opportunity to re-connect with partners, establish new connections and reassert Phytomer's commitment to sustainability, profitability and results," says Phytomer USA President Lenette Casper. "We are proud to help shape the spa industry through our participation and we look forward to each year's event and value the relationships that come from it."
Phytomer at a glance:
With over 40 years as the leader in the marine skin care, Phytomer is now a pioneer in the field of marine biotechnology, the future of results-oriented cosmetics. This is the newest technology to create innovative, 100% natural skin care ingredients. Based in Saint-Malo, France and distributed in 70 countries worldwide, Phytomer has a reputation of leadership and expertise within the spa industry. With Phytomer meaning "plant of the sea," we utilize seawater, seaweed or seaside plants in every retail and professional product, combining science with the natural powers of the sea. We are one of the only spa brands with our own laboratory, allowing us to research and cultivate our own ingredients, develop unique cosmetic formulas, manufacture skin care products and create cutting-edge professional treatments to deliver remarkable results.