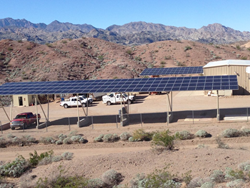 "Our parks are walking the walk and talking the talk of solar use to reduce electric costs…."
Bullhead City, AZ (PRWEB) November 06, 2015
Creative Solar USA, based in Canton, GA, and K-Con, Inc., based in Charleston, SC, have begun the final stages of construction on three solar parking canopies at the Katherine Landing Marina on Lake Mohave at the southern end of the Lake Mead National Recreation Area.
Together Creative Solar and K-Con are creating a 77 kilowatt system to provide shelter from the intense Arizona sun for marina patrons' cars. The canopies will provide cost-effective renewable energy for the marina, in keeping with the area's focus on environmental preservation. The project is expected to begin generating power for the marina by December 2015.
Creative Solar USA is a turnkey residential and commercial solar developer. Founder and President Russell Seifert said he is proud to be part of the precedent the National Park Service is setting with solar energy adoption.
"We are excited to be part of a government program for solar at our National Parks," Seifert said. "It shows our parks are walking the walk and talking the talk of solar use to reduce electric costs and lead the trend to more sustainable forms of power production for the future."
K-Con, Inc., is a full-service, turnkey design-build metal building general contractor with more than 25 years' experience working with the Federal Government - a GSA Contract holder for 15 years. The company combines facility solutions, engineering, site preparation and installation with value engineering and designs and budgets for planning purposes. This has made K-Con a trusted go-to government contractor.
"K-Con is pleased to bring another solution to the government utilizing the expertise of Creative Solar." said K-Con president Pat Kiernan.
The partnership is planning to create additional solar sites in the U.S. National Parks system. Future sites will be announced later as plans and timetables develop.
Katherine Landing is a popular recreation destination on Lake Mohave in the southern portion of the Lake Mead National Recreation Area. Discovered by Spanish explorers before the Mayflower landed at Plymouth Rock, the site developed as a landmark for steamboats traveling the Colorado River. With the completion of Davis Dam in 1953, the area became an important part of tourism around Lake Mead and was added to the Lake Mead National Recreation Area in 1964.