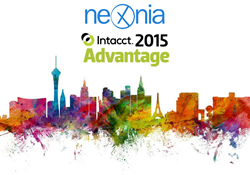 With the arrival of real-time sync, key data will effortlessly flow between Nexonia and Intacct.
Las Vegas, Nevada (PRWEB) November 09, 2015
Nexonia Inc, leading provider of web and mobile business financial management solutions, today announced the new development of real-time synchronization of data with Intacct ERP. The new feature gives customers the ability to have key data transfer immediately between their Nexonia and Intacct solutions.
"Since 2012, Nexonia has provided hundreds of Intacct customers with an exceptionally deep and highly-configurable integration with Intacct," said Neil Wainwright, CEO of Nexonia. "With the arrival of real-time sync, key data will effortlessly flow between Nexonia and Intacct. It's just another example of how our team works hard to develop features with our customers in mind!"
As part of the new development, key dimensions (such as "employees," "vendors," "customers" and "projects") will be introduced to Nexonia, synchronized from Intacct in real time. Expense reports and timesheets that are fully approved in Nexonia will also be exported to Intacct in real-time, rather than at the end of day or by manually refreshing the data as an administrator.
The Nexonia team is a Platinum Sponsor of Intacct Advantage 2015, the world's largest conference devoted to Intacct customers and partner communities. Hosted at the Mirage Hotel and Casino in Las Vegas, November 9-13, the event marks the third consecutive year Nexonia has participated as a sponsor.
The Nexonia team will provide live, in-person demonstrations of their Intacct product integrations and can answer questions about the new real-time sync development at booth #509 at the Intacct Advantage Marketplace Expo during November 10-12. Those who are unable to attend the conference can request a free, personalized demo with a Nexonia Product Education Specialist.
About Nexonia:
Nexonia Inc. is a provider of leading web and mobile expense, time and other business financial management solutions, including: Nexonia Expenses, Nexonia Timesheets, Nexonia Time Off, Nexonia Time Allocation, Nexonia Purchase Orders and Nexonia Accounts Payable. Nexonia's simple-to-use and highly customizable applications are fully integrated with ERPs, credit cards and other systems supporting a variety of businesses. Nexonia solutions are designed to streamline the reporting and approval process, improve human resource management and enhance operational efficiency.
To receive more information, visit http://www.nexonia.com or call 800-291-4829.