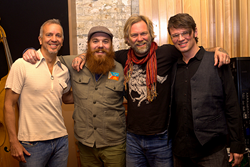 Fairfield, CT (PRWEB) November 06, 2015
Fairfield Theatre Company will give thanks this holiday season by bringing four incredible nights of music that will fill any appetite to StageOne and The Warehouse between Nov. 25 and Nov. 29.
Starting off this musical feast will be the highly acclaimed New York rock-and-roll songwriter, Willie Nile as he dishes up a heaping portion of the most decedent rocking grooves as FTC celebrates the biggest party night of the year on Wednesday, Nov. 25, at 7:30 pm at StageOne.
Nile, who is celebrating 35 years of performing, is considered a musician's musician. After being personally asked by Pete Townshend to tour alongside the legendary British rock band, The Who and having been invited onstage to perform with the likes of Bruce Springsteen during the E Street Band's final two shows at Giants Stadium in 2003, it's easy to see why artists like Ringo Starr, Tori Amos, Elvis Costello, Ian Hunter, Bono, Paul Simon, Graham Parker, Jim Jarmusch, Adam Duritz, Little Steven, and Lucinda Williams all sing his praises.
Breaking onto the scene after releasing his first two albums in 1980 and 1981, Willie Nile was immediately dubbed a "one-man Clash" by one critic, while another called his debut effort "one of the most thrilling post-Byrds folk-rock albums of all time."
Now fast forward 35 years with a series of acclaimed albums like 2006's "Streets of New York," 2009's "House of a Thousand Guitars," 2010's "The Innocent Ones," and 2013's "American Ride," it's easy to see how the New York Times calls Nile "One of the most gifted singer-songwriters to emerge from the New York scene in years."
Coming back to StageOne in support of his most recent release, the contemplative "If I Was a River," the album forges the Buffalo-born songwriter into the forefront of a creative renaissance.
Though the songs are not the traditional style Nile is known for, the new songs sound old-fashioned and evoke late 19th century parlor music in their cadences - cakewalks, waltzes, rags - yet Nile adds his signature style of performing with a delicate flair and a keen sense of rhythm that turn these songs into new fan-favorites.
Whether or not you already know Nile's music, a chance to see this iconic songwriter perform in person is why the Buffalo Music Hall of Fame say, "his live performances are legendary."
Yet this is just the beginning as Fairfield Theatre Company loosens up its belt and gets ready for a second helping of music as they welcome the funk and grooves of the 12-piece, Brooklyn-based, New Orleans-themed band: Brother Joscephus and The Love Revolution. on Friday, Nov. 28 at StageOne.
With their foot-stomping, booty-shaking, New Orleans funk sound, Bro Jo is an "explosion of righteousness" that blends New Orleans funk and feel-good party music together, all while captivating the audience with the second line and soulful sounds reminiscent of Ray Charles or Al Green. The Love Revolution serve up a giant helping of roots rock, jam, and a sound all their own called "secular gospel;" an upbeat Gospel sound without the religious overtones that'll have fans up clapping and dancing from the very first note until the very end.
With excellent original tunes and a theatrical flair, Brother Joscephus And The Love Revolution will have those in attendance feeling as though they just stepped out onto Bourbon Street.
And if those two shows don't have audiences musical appetites filled yet, then they won't want to miss Bridgeport's own Caravan of Thieves as they make their illustrious return to StageOne at 7:30 p.m. on Saturday, Nov. 28.
Caravan of Thieves are an exemplar band on the high road to musical perfection with an impressive lift that is powered by soaring crescendos and inspiring vocal harmonies that cause audiences to get up and dance around the room.
Continuing to tour nonstop from the beaches of Florida to the rocky coast of Washington state, to even the hills of the United Kingdom's biggest festivals,have their family of freaks (referring to what they call their devoted fans) hooting and hollering for more of their poignantly catchy tunes every time they perform.
Made up of the husband and wife songwriting duo Fuzz and Carrie Sangiovanni, violinist Ben Dean and upright bass player Brian Anderson, Caravan of Thieves return to StageOne in support of their newest album release, "Kiss Kiss."
Don't miss the chance to see Caravans' unique blend of pop bliss melodies and their trademark bang-a-beat-on-anything approach as they will have those in attendance dancing and cheering for more.
And finally FTC scrapes the musical feast bowl clean as they welcome back the dynamic super-group Southern Soul Assembly made up of some of music's biggest names including Anders Osborne, Luther Dickenson, J.J. Grey, and Marc Broussard to The Warehouse on Sunday November 29 at 8pm.
Each of these four remarkable musicians comes to SSA with a proven track record in the often-overlapping genres of music that are most closely associated with the South.
"That's where we all come from," Grey said, who is best known as the front-man of Jacksonville Florida's J.J. Grey & Mofro; whose hybrid mix of soul, funk, blues, and gutsy rock is sure to find its way to the Assembly's gigs as well. "It's a bit of a mystery as to exactly what will unfold on the road and on the stage," Grey said. "That's the excitement of it. I'm looking forward to the whole interaction, the whole front porch feel, drinking a beer and hanging out and playing music."
The idea for the band and tour came about because, "most of us know each other pretty well just from crossing paths on the road. There is a common theme underlying what we each do—it's the South, the landscape and the culture of our surroundings. That theme is present in each of our song collections. But we all have different perspectives and the flavors vary," Grey said.
One thing is for certain though: the Southern Soul Assembly live up to its name. "The South is in each of us," they say, drawing from the rich legacy of Southern American culture of the players.
"Just like food in the South, our music is greasier than most," Marc Broussard said.
So get ready to join the Fairfield Theatre Company as they dish up some of the most delectable music in town and don't worry they won't judge if you go back for seconds, thirds or fourths — they actually encourage it!
Willie Nile
Date: Wednesday, Nov. 25
Doors: 7 p.m.
Show: 7:30 p.m.
Venue: StageOne
70 Sanford St., Fairfield CT 06824
Tickets: $30 advance / Member Discount: $3
Brother Joscephus and the Love Revolution
Date: Friday, Nov. 28
Doors: 7 p.m.
Show: 7:30 p.m.
Venue: StageOne
70 Sanford St., Fairfield CT 06824
Tickets: $28 advance / Member Discount: $3
Caravan of Thieves
Date: Saturday, Nov. 28
Doors: 7 p.m.
Show: 7:30 p.m.
Venue: StageOne
70 Sanford St., Fairfield CT 06824
Tickets: $28 advance / Member Discount: $3
Southern Soul Assembly
Date: Sunday, Nov. 29
Doors: 7 p.m.
Show: 8:00 p.m.
Venue: The Warehouse, 70 Sanford St.
Tickets $48 advance / Member Discount N/A
Buy online: http://www.fairfieldtheatre.org
About Fairfield Theatre Company:
Fairfield Theatre Company is a highly-acclaimed nonprofit performing arts organization located in the heart of downtown Fairfield, Connecticut. FTC presents nearly 200 performances and concerts each year featuring outstanding national talent on FTC's StageOne in Fairfield, the Klein Auditorium in Bridgeport, and the Norwalk Concert Hall FTC's intimate 225-seat StageOne venue is widely recognized as being one of the best places to see a live performance in the region. FTC is dedicated to providing the highest quality arts, entertainment, and educational experiences to the communities we serve.