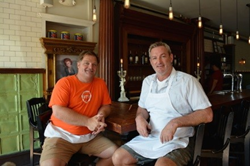 Portland, Maine (PRWEB) November 06, 2015
OTTO co-founders Mike Keon and Anthony Allen will revisit their journey from a single restaurant to a gourmet pizza company with 10 locations across southern Maine and Massachusetts (plus their new burrito shop OCHO) as the keynote for this year's Mainebiz Momentum Convention on November 10 at the Augusta Civic Center.
Joining Keon and Allen are business owners and leaders from across Maine, who will participate in a range of panels that explore the core areas businesses and organizations need to consider in order to grow: People, Process and Profit. Speakers (a list of speakers and panels can be found here) at the annual conference will share examples of lessons learned from their own experiences, with the goal to help other companies successfully navigate growth, as well as achieve longevity, reach profit goals and build stellar teams. This slate of experts represents a wide variety of industry sectors across Maine, including companies and organizations at the top of their fields not only within the state, but also growing and competing on a national level.
Selected by Yelp as one of 100 "top-rated businesses" in America, and the only Maine business invited to Yelp's "Coast-To-Coast: Coming Together Because We Mean Business" conference in San Francisco, OTTO is an independently-owned chain that cites its focus on simplicity, unique style and community involvement as the keys to its growing success.
Convention attendees will experience a day full of learning at Mainebiz U, have access to more than 100 B2B exhibitors and have the opportunity to network with more than 1,500 peers. The annual event is known for providing access to key decision-makers, facilitating business development opportunities, and examining relevant strategies needed to overcome challenges and achieve business goals. The Momentum Convention's Pavilion also features complimentary samples from more than 15 Maine-based food and beverage purveyors. Click here for more information and to register.
About OTTO
OTTO, an award-winning Portland-based gourmet pizza restaurant, was founded by Mike Keon and Anthony Allen in 2009. The co-owners' refreshing take on a timeless classic has brought flavor creations such as the 'Mashed Potato, Bacon, Scallion' and 'Cranberry, Butternut Squash, Ricotta'. With ten locations throughout Maine & Massachusetts, this independently-owned chain has a strong focus on simplicity, unique style and community involvement.
About Mainebiz
Now celebrating its 21st year, Mainebiz is a multimedia company providing business news, information, and analysis for business owners and C-level executives in Maine, from Fort Kent to Kittery. Located in Portland, Maine, Mainebiz serves the business decision-makers in Maine across multiple channels, including its flagship print publication, website, daily e-mail digest, events, and its new and acclaimed Real Estate Insider e-mail news digest. Mainebiz is the recipient of myriad national, regional, and local awards for journalistic excellence, outstanding design and graphics, and community service. Learn more at http://www.Mainebiz.biz.
About Momentum Convention
Momentum is an annual convention, hosted by Mainebiz, aimed at fostering growth and innovation in Maine. It's a full day of learning and networking with industry leaders, peers, and customers. Attendees will spend the day with some of Maine's most successful CEOs who will share insights and the transformational strategies they used to launch their companies to new heights. For more information and to register visit: http://www.Mainebiz.biz/momentumconvention.
###