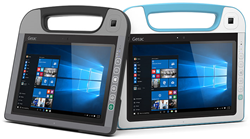 The RX10 fully rugged tablet presents a form factor that is easy to transport while providing uninterrupted operation in severe temperatures.
Chandler, AZ (PRWEB) November 10, 2015
Group Mobile, well known for carrying the top brands in rugged laptops, rugged tablet PCs, rugged SmartPhones, and rugged handheld computers has recently extended its product offerings to include the new Getac RX10 and RX10H tablet computers. The Getac RX10 is a fully-rugged tablet specifically designed to tackle the toughest tasks in the harshest environments, while the RX10H healthcare tablet assists medical professionals gather patient information and expedite administrative paperwork all from a single device, supporting the delivery of exceptional and efficient healthcare services.
The Getac RX10 is designed with field service professionals in mind, the RX10 combines fast processing speeds with energy efficiency, an ergonomic handle, an ultra-thin 10.1-inch full HD display with glove-friendly LumiBond 2.0 technology, and advanced wireless options.
The Getac RX10 combines an Intel Core M-5Y10c processor for exceptionally fast processing speeds, and can be configured with tri pass-through antenna ports, allowing users to simultaneously connect high-gain GPS, WWAN and WLAN roof-mounted antennas for expanded signal range. Getac's proprietary technology also enhances screen sensitivity in wet environments while using a stylus, digitizer or even gloves, an essential feature for field service professionals. Battery life is crucial when working in the field, the Getac RX10 provides up to eight hours of battery life on a single charge.
The LifeSupport hot-swappable design enables users to swap the main battery and replace it with a fresh battery without shutting down apps or the operating system. The RX10 includes a front-facing HD camera, 1D/2D barcode reader, USB 3.0/2.0 ports, micro HDMI port, and headphone/microphone combination, plus an 8MP camera on the backside of the rugged tablet. The RX10 is independently tested and certified for MIL-STD 810G and IP65, guaranteeing the tablet is built to survive drops, vibration, water, dust and extreme temperatures.
"Portability and responsiveness are two critical features that field service professionals need in their rugged devices," said Scott Shainman, president of Getac North America. "The RX10 fully rugged tablet presents a form factor that is easy to transport while providing uninterrupted operation in severe temperatures." To learn more and purchase the Getac RX10 rugged tablet, visit: http://www.groupmobile.com/product.asp/sku=7847/dept_id=/mf_id=5/Getac+RX10+Fully+Rugged+Tablet.html
The Getac RX10H is a thin and light rugged tablet with Windows 10 providing a fast, secure and sanitized way for doctors, nurses, home health providers and field EMT's to monitor patients and quickly access a patient's electronic medical history, view test results, and capture current medical data. The RX10H will enable the sharing of vital medical information between providers and patients regardless of location. With options like a detachable keyboard, the RX10H becomes a 2-in-1 device that transforms from a tablet to a laptop instantly.
The RX10H rugged healthcare tablet is certified to medical regulations EN/IEC 60601-1 and incorporates an antimicrobial surface to resist the growth of harmful organisms as well as tested to withstand the frequent chemical sanitization that occurs in the health care environment. The device offers powerful security protection for keeping patient records safe, including password protection, RFID reader, fingerprint reader, and smart card reader.
"No other market has had the technological mandates of the healthcare field," said Rowina Lee, Vice President of Global Sales & Marketing of Getac. "With the RX10H, we have designed a product to fill a much needed void in the healthcare environment, combining a lightweight, ergonomic design with the durability to withstand the tumbles and fluids a device is exposed to in the healthcare environment. The initial feedback has been incredible," Lee concluded. To learn more and purchase the Getac RX10H healthcare rugged tablet, visit: http://www.groupmobile.com/product.asp/sku=7849/dept_id=/mf_id=5/Getac+RX10H+Fully+Rugged+HealthcareTablet.html
The Getac RX10 rugged tablet and RX10H healthcare tablet can be preordered from Group Mobile now, and will be available to ship in December 2015. To learn more about all of the Getac rugged computers Group Mobile carries visit: http://www.groupmobile.com/brand.asp/mf_id=5/Getac.html or call toll free 866-RUGGED8 (1-866-784-4338).
About Group Mobile
Headquartered in Phoenix, AZ, Group Mobile serves customers all over North America. Customers range from Fortune 500 companies and the U.S. Military, to local police/fire/ambulance, to small and mid-size businesses, to the frequent traveler that needs something more durable than a commercial, off-the-shelf computer. Group Mobile carries all the leading rugged computing brands. In addition, Group Mobile offers vehicle docking and mounting equipment from Gamber Johnson, Ram Mounts, Jotto Desk, and Havis/Ledco. To learn more about rugged computers and how they differ from commercial, indoor computers, check out the Rugged Computer Guide or visit us online at http://www.groupmobile.com.