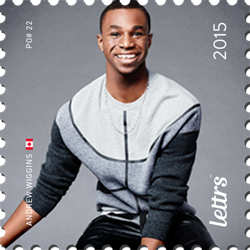 Twitter and things like that are great, but it's also important to slow down and put thought and emotion into what you have to say.
(PRWEB) November 10, 2015
NEW YORK – In an era when communication is dominated by emoticons, chats, and tweets, lettrs, a communications app that personalizes signed and quality communication is changing the game. Three basketball stars have seen the difference and are using lettrs to build and deliver more meaningful correspondence with their fans.
Andrew Wiggins of the Minnesota Timberwolves, Jordan Clarkson of the LA Lakers and Gary Harris of the Denver Nuggets have joined lettrs to connect with fans through the site's innovative system which stresses quality and author personalization over abbreviation and immediacy.
lettrs also allows fans to write directly to players with thoughtful responses and allows the stars to share their favorite letters with everyone. It's fan mail made mobile. Already, more than 1,000 fans of the three players have written to them on lettrs and the players appreciate the new community.
"Twitter and things like that are great," Wiggins said. "But it's also important to slow down and put thought and emotion into what you have to say – and listen to your fans. Since you can't write personal notes to thousands of people, lettrs is the next best thing – you can read what people write, be honest and show your passion and still reach everyone who needs to hear from you."
This summer, Harris, the Denver guard, used lettrs to compose a well received "love letter to Denver." And soon, Wiggins will distribute an autographed mobile letter to his nearly 500,000 fans – all at once – through lettrs integration with Facebook. Wiggins' letters will arrive in Facebook messenger and carry his unique lettrs SocialStamp – available to brands and well-known individuals. To recognize the growth in mobile media lettrs has activated 21 new media player socialstamps to deepen the engagement with fans in 80 different languages.
"lettrs is the place for people who really put thought into what they're saying," said lettrs founder Drew Bartkiewicz. "It's the modern day merger of traditional letter writing and digital mass communications."
The early-adapting players are already believers and see the difference between fast-break communications such as Facebook and stronger, thought out communications. Denver's Harris, for example, spells out the distinction clearly and, ironically, on his personal twitter profile regarding the nature of tweets being quick hits versus the thoughtful outreach and response of lettrs.
LA's Jordan Clarkson is enjoying the flurry of mobile mail and correspondence with fans from his native home, the Philippines. The Clarkson Fan Fridge on lettrs has already generated over 150,000 views.
"Thanks to lettrs by the time I arrived in the Philippines I already had personal notes waiting on me from fans and family," said Clarkson. "I will always remember the notes from family, friends, and fans that I was able to read through the night when we arrived in Manila."
The depth of the personalized and more original communications is easy to spot and, as fans start to identify and value the more personal touch of communications written on lettrs, it's likely that other high-profile individuals will turn to the platform to connect more deeply with their audiences as well.
"Once that happens," Bartkiewicz said, "people will appreciate the value in both writing and receiving long-form, unrushed correspondence. That could be a game changer – contagious in fact - not just for sports fans but for communications in general."
About lettrs
lettrs is a powerful new social messaging and media platform that allows people to express themselves in more personalized ways through the use of letter-writing elements such as calligraphy, stationery, stamps and signature. With more than 1.7 million downloads of the app and 3 billion impressions on its network, people from 170 countries communicate in instantaneous 80 language translations. lettrs also offers branded messages to help consumers, brands and nonprofit organizations share thoughtful personalized and impactful messages that are designed to last. The network powers modern-day fan mail as a fusion of pictures, people, prose and personality. lettrs was selected as a Google Play Best Android App of 2014.