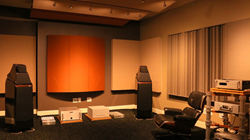 A person is blown away by how good it looks and sounds. The room disappears and all you hear is the music.
Lake Grove, NY (PRWEB) November 16, 2015
Audio Den, a full service residential and custom electronics design and integration firm, is proud to announce the opening of their Room of Exceptional Sound. The newly redesigned space has been expertly crafted to optimize two-channel audio playback. Every aspect of the room was carefully considered – from the positioning of the equipment and primary listening seat, to the room acoustic treatments, lights and color pallet – to create the ultimate listening environment.
Audio Den partnered with RPG, a renowned room acoustics treatment company that has worked on recording studios, performance halls and dedicated listening rooms worldwide, to optimize the audio performance of the room. There was also extensive thought put into the room's lighting and interior design to create an unforgettable experience. Audio Den began by giving detailed measurements of the space and the proposed equipment to RPG, who responded with a prescription of specific treatments for the room. RPG suggested a mix of its products, including absorbers, diffusers and specialized decorative panels that achieve a balance between sound absorption and reflection.
"It's a really cool feature not available in a lot of other places," said Audio Den Sales and Project Manager Aaron Miller. "A person is blown away by how good it looks and sounds. The room disappears and all you hear is the music. It's just stunning how good it sounds and it looks."
The space is set up to feature one pair of speakers at a time. Audio Den clients can choose to demo speakers from top lines including Wilson Audio, Magnepan, Dynaudio, and the new Bowers & Wilkins Diamond speakers. All speakers can be enjoyed with a variety of components from brands such as Constellation, Esoteric, Moon, Audio Research and Ayre. For source components, Audio Den features an assortment of turntables and high-resolution digital music streaming devices. The entire room is fully automated, allowing the listener to control the music from an IPad.
The Room of Exceptional Sound is located at Audio Den's 7,000 square foot store located in 2845 Middle County Road, Lake Grove, NY. While there, customers can also sample the breadth of Audio Den's other services, such as home automation and lighting, integrated computer networks and custom home theaters. The Audio Den Showroom is open from 10 a.m. to 8 p.m. Mondays and from 10 a.m. to 6 p.m. Tuesday through Saturday. To schedule a visit, call (631) 585-5600 or fill out a contact form online.
About Us:
Audio Den is a full-service residential and commercial custom electronics design and integration firm that has been serving New York State since 1976. Audio Den is a member of Pro Source and the Custom Electronic Design Installation Association. Certified by CEDIA, Control4, Bowers & Wilkins, McIntosh and ISF, Audio Den is committed to providing clients with the best and most innovative solutions for automation and audio systems. The number one priority of the integration experts at Audio Den is to provide the best products and services to clients, while making them simple and easy to use. To learn more, visit. http://www.audioden.com