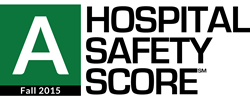 We are honored at Florida Hospital Carrollwood to be recognized for our dedication to patient safety
Tampa, FL (PRWEB) November 09, 2015
Florida Hospital Carrollwood earned an "A" grade for patient safety with The Leapfrog Group 2015 Fall Hospital Safety Score. The Hospital Safety Score is the gold standard rating for patient safety, compiled under the guidance of the nation's leading patient safety experts and administered by The Leapfrog Group. The first and only hospital safety rating to be peer-reviewed in the Journal of Patient Safety, the Hospital Safety Score is free to the public and designed to give consumers information they can use to protect themselves and their families when facing a hospital stay.
"We are honored at Florida Hospital Carrollwood to be recognized for our dedication to patient safety," said Joe Johnson, President & CEO. "Receiving an 'A' from The Leapfrog Group demonstrates to our team that our hard work and focus on excellence has been recognized. Our team works diligently every day to ensure our patients receive the safest and highest quality of care in a compassionate environment."
"Florida Hospital Carrollwood's 'A' grade is a powerful reminder of its commitment to putting patient safety above all else, and we are pleased to recognize the persistent efforts of your clinicians and staff to protect your patients," said Leah Binder, President & CEO of The Leapfrog Group.
Developed under the guidance of Leapfrog's Blue Ribbon Expert Panel, the Hospital Safety Score uses 28 measures of publicly available hospital safety data to produce a single A, B, C, D, or F score, representing a hospital's overall capacity to keep patients safe from preventable harm. More than 2,500 US general hospitals were assigned scores in October 2015, with 773 hospitals receiving an A grade. The Hospital Safety Score is fully transparent, offering a full analysis of the data and methodology used in determining grades on the website. Patients can also review their hospital and methodology used in determining grades on the website.
Florida Hospital Carrollwood, located at 7171 North Dale Mabry Hwy. in Tampa, offers comprehensive emergency, surgical, wound care and men's health services in an environment dedicated to compassionate care and healing. The hospital's diabetes, spine surgery, bariatric weight-loss surgery and knee-replacement programs are recognized by the Joint Commission as Centers of Excellence, and the hospital has been recognized for two years in a row for Leadership in Quality & Patient Safety by the Florida Hospital Association.
Florida Hospital Carrollwood is also currently undergoing a major renovation and expansion project, set for completion in 2017, which will bring additional and updated OR space, expanded interventional cardiology, endoscopy and cystoscopy service areas, as well as facility improvements and enhancements.
The community can also review their hospitals past safety performance alongside its current grade on the Hospital Safety Score site, allowing them to determine which local hospitals have the best track record in patient safety and which have demonstrated consistent improvement. To see Florida Hospital North Pinellas full score, and to access consumer-friendly tips for patients and loved ones visiting the hospital, visit http://www.hospitalsafetyscore.org or follow The Hospital Safety Score on Twitter or Facebook, Consumers can also download the free Hospital Safety Score mobile app for Apple and Android devices.
About Florida Hospital Carrollwood
Florida Hospital Carrollwood is a 120-bed acute care facility that specializes in providing comprehensive medical services to community residents in the northern Tampa Bay region. Awarded by the Florida Hospital Association for Leadership in Quality and Patient Safety, the hospital is a member of the West Florida Region of Florida Hospital and Adventist Health System. Florida Hospital Carrollwood offers exceptional spine, orthopedic and bariatric surgical services, as well as ER, Cardiology, and Wound Healing services in an environment focused on Christian compassion and an inspired approach to healthcare. For more information, please visit fhcarrollwood.org.
About The Leapfrog Group
Founded in 2000 by large employers and other purchasers, The Leapfrog Group is a national nonprofit organization driving a movement for giant leaps forward in the quality and safety of American health care. The flagship Leapfrog Hospital Survey collects and transparently reports hospital performance, empowering purchasers to find the highest-value care and giving consumers the lifesaving information they need to make informed decisions. Hospital Safety Score, Leapfrog's other main initiative, assigns letter grades to hospitals based on their record of patient safety, helping consumers protect themselves and their families from errors, injuries, accidents, and infections.