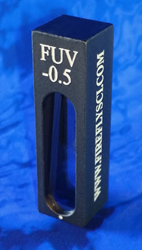 Brooklyn, NY (PRWEB) November 11, 2015
FireflySci Inc. is a manufacturer of high grade, affordable spectrophotometer cuvettes, flow cytometer cells, flow through cells and spectrophotometer calibration standards. With over 20 years of manufacturing experience, FireflySci is a relatively new comer to the cuvette industry. Their cute Firefly logo can be found all over the internet as they continue to publish the most comprehensive database of cuvette questions and answers available.
Due to the high sensitivity of a spectrophotometer an outside reference standard is needed, apart from the internal calibration procedure that is built in. For over 50 years liquid calibration filters have been everyone's go to option to make sure their spectrophotometer was in spec. The problem with the liquid filters has always been the expensive yearly recalibration fees. These fees can run up to 40-50% of the original purchase price of the calibration standard, which adds a tremendous amount to a labs budget.
The worst part is that this process never stops. There is no end to recalibrating standards and a researcher is stuck in this lifetime commitment. To add more insult to injury people can count on companies raising their recalibration fees every year. Plus people have to deal with the four week lead times waiting for their standards to be returned from the manufacturer.
Thanks to FireflySci, there is relief for everyone who uses calibration standards. FireflySci is proud to be the only company in the world that carries NIST Traceable spectrophotometer calibration standards that never require recalibration. What this means for researchers is that they buy one set of calibration filters and they are set. There is no yearly recalibration fees and no long lead times. NIST standards stay where they belong, in the lab ready to be used.
These new spectrophotometer calibration standards are made from solid glass materials. The solid-state materials are made from various materials which range from neutral density glass to holmium glass and many others. The glass plates are coated with a special coating to ensure that the original properties of the glass remain in place and there is no material bread down over time.
To sweeten the deal, the guys at FireflySci are backing ever solid-state calibration standard they sell with a Lifetime Warranty. The FFS Lifetime Warranty gives customers the ultimate peace of mind. The warranty states that if for whatever reason the calibration standard does fall out of specification, FireflySci will replace it free of charge, for life.
With so many companies trying to exploit people with high recalibration fees and unnecessary long lead times, FFS knows people will quickly switch to their solid state NIST calibration standards. With the Lifetime Warranty backing up the product, this will be the easiest decision for the thousands of labs that span the globe.
For more information visit http://www.fireflysci.com.