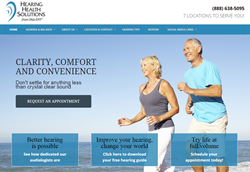 Columbus, OH (PRWEB) November 10, 2015
As Apple's most personal device to date, the Apple Watch can help people easily manage their calendars, answer calls, and monitor fitness goals. But it can also be used for more specialized tasks, including the ability to function as a hearing aid remote control.
In a recently published article titled 10 Cool Ways to Control Your Hearing Aids With the Apple Watch, Hearing Health Solutions describes several useful ways that the Apple Watch can interact with a pair of compatible hearing aids.
First, the Apple Watch can function as the hearing aid remote control, allowing the user the ability to adjust the volume, treble, and bass on the hearing aids right from the watch. The user can also mute the hearing aids, find their misplaced hearing aids, and can save and access custom sound settings all within the interface of the watch.
The user can also fine-tune sound settings on the go, adjusting the focus for speech processing and blocking out background noise depending on the environment.
Other functions include the ability to stream music and phone calls directly to the hearing aids, the ability to check hearing aid battery life and connection status, and the ability to control tinnitus management programs all from the Apple Watch.
The Apple Watch, in combination with compatible hearing aids, creates a personalized listening experience where users can easily and discreetly manage hearing aid sound settings. And combined with a pair of in-the-ear-canal hearing aids, the hearing aids become virtually invisible.
Hearing Health Solutions encourages people to visit http://www.hearinghealthsolutions.com for more information about the Apple Watch and compatible hearing aid models.
About Hearing Health Solutions
Hearing Health Solutions is a full-service audiology practice located in Ohio, with seven locations in Columbus, Delaware, Dublin, Westerville, and London. The practice offers comprehensive services including hearing tests, hearing aid evaluations, custom hearing aid fittings, hearing aid cleanings, rehabilitative counseling, preventive care advice, and service and repair for most hearing aid models.
Contact:
Carolyn Gigliotti, Au.D.
Hearing Health Solutions
(888) 638-5095
http://www.hearinghealthsolutions.com