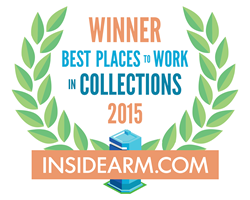 Our employees are our most important asset, so I'm pleased to see that our benefits and programs are contributing to a work environment that our employees consider positive, professional and rewarding. - SquareTwo Financial CEO Paul A. Larkins
Denver, CO. (PRWEB) November 10, 2015
Fresh View Solutions, the collections agency of SquareTwo Financial, a leader in the $100 billion asset recovery and management industry, has been selected for the 2015 insideARM Best Places to Work in Collections award, its second consecutive year to receive the honor. Fresh View Solutions was among 47 agencies recognized by the program.
"We are excited that Fresh View Solutions is being honored again as one of the best places to work in our industry," said Paul A. Larkins, president and CEO of SquareTwo Financial. "Our employees are our most important asset, so I'm pleased to see that our benefits and programs are contributing to a work environment that our employees consider positive, professional and rewarding."
Now it its eighth year, Best Places to Work in Collections was designed to identify, recognize and honor the best places of employment in the collections industry. As a whole, the industry benefits the nation's economy and its workforce by recovering more than $55 billion owed to businesses and providing more than 230,000 jobs. The industry's employees pay nearly $2 billion in local, state, and federal taxes, contribute over $130 million to charities, and spend over 2 million hours volunteering their time annually (source: ACA International/Ernst & Young 2014 Impact study).
"It's so important to celebrate what's positive and acknowledge the fact that – just like any other industry – the collection industry is comprised of human beings who value connection, opportunity for advancement, healthy company culture, and a good relationship with their supervisor," said Stephanie Eidelman, CEO of insideARM.
Companies from across the U.S. entered the two-part survey process to determine the Best Places to Work in Collections. The first part consisted of evaluating each nominated company's workplace policies, practices, philosophy, systems and demographics. The second part consisted of an employee survey to measure the employee experience.
"The Fresh View Solutions team works hard to delivery an exceptional customer experience, so it is an honor to be chosen as an exceptional workplace by such a thorough award program," said Dan Martella, vice president, call center operations, Fresh View Solutions.
The Best Places to Work in Collections list is divided into three size categories: Small (15-49 employees), Medium (50-149 employees) and Large (150+ employees). The combined scores determined the top companies, and will determine a final ranking by size, to be published in December by insideARM.
About SquareTwo Financial
SquareTwo Financial is a leader in the $100 billion asset recovery and management industry. Since 1994, the company and its subsidiaries have helped more than two million individuals and businesses resolve their outstanding financial obligations. The SquareTwo Financial collection agency, Fresh View Solutions, works with consumers to repay their financial obligations. The company's Fresh View Funding debt ownership team works with banks and other issuers of credit to purchase unpaid debt. SquareTwo Financial and all of its subsidiaries are committed to delivering the Fair Square Promise — the company's internal commitment to treat every customer with fairness and respect. SquareTwo Financial is based in Denver, Colorado. Visit http://www.squaretwofinancial.com for more information.