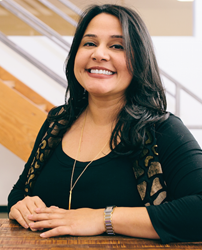 Diversity fuels innovation by embracing otherness and allowing differences in perspectives so that the most powerful ideas prevail.
Los Angeles (PRWEB) November 12, 2015
BeyondCurious today announced that Founder and CEO Nikki Barua has been chosen by EY as one of the 12 entrepreneurs selected for the 2015 North American Entrepreneurial Winning Women™ program. EY helps the winners accelerate the growth of their companies through training, advice and access to the resources and networks necessary to grow their companies into formidable forces in their respective industries.
This year's diverse class of winners comprises some of the most promising women in business. As a group, they average $11.3 million in revenue with a combined $136 million in revenue. Their three-year growth rate is 164%, and they employ 116 people on average. This year's winners faced more competition than ever. EY received record numbers of qualified applications and nominations, and saw a sharp rise in applicants in STEM-related fields. Twenty-eight percent of this year's applicants were in the technology sector, compared to 9% in 2014.
Since Barua founded BeyondCurious in 2011, the innovation agency has experienced rapid growth by helping brands such as GoPro, Lexus and Toyota transform with digital. Much of the agency's success comes from its unique approach of innovation at speed that brings together the creativity of Madison Avenue with the inventiveness of Silicon Valley. BeyondCurious has been featured in media ranging from CNBC to Forrester Research. In June, BeyondCurious was named Boutique Agency of the Year by thinkLA, and in October, BeyondCurious was named Supplier of the Year by NMSDC.
Barua was also featured in a Fortune magazine profile, "Why Immigrant Women Make Great Entrepreneurs," published November 12.
Barua said, "I am honored to be recognized as one of North America's Top Women Entrepreneurs by EY. BeyondCurious was founded with a singular mission – to unlock the limitless potential of people, organizations and brands through rapid innovation. This mission is realized by our diverse culture and mindset. Diversity fuels innovation by embracing otherness and allowing differences in perspectives so that the most powerful ideas prevail. The EY program not only promotes diversity but also provides a platform for women entrepreneurs to be visible role models for others. I am proud to be a catalyst for change and committed to narrowing the gender gap in business."
Launched in North America in 2008, Entrepreneurial Winning Women is a national competition and executive education program that identifies a select group of high-potential women entrepreneurs from the United States and Canada.
The entrepreneurs are selected by a panel of independent judges and participate in a customized program designed by EY to catalyze their companies' growth by accessing seasoned business advisors, improving business know-how, expanding external investment options and providing increased visibility. The program continues to help the entrepreneurs in the years that follow their initial selection. Many past winners stay engaged in this community where they find like-minded peers with common values, purpose and entrepreneurial ambition.
Kerrie MacPherson, Principal, Financial Services Office, Ernst & Young LLP, and EY North American Entrepreneurial Winning Women Executive Sponsor, said, "The women in this year's class have achieved remarkable things in their careers and for their companies. Through our experience as business advisors and the rich entrepreneurial ecosystem we convene, we can help these entrepreneurs overcome obstacles to achieve their full ambitions."
The 12 members of the Entrepreneurial Winning Women class of 2015 received an all-expenses paid trip to the EY Strategic Growth Forum® 2015, a CEO invitation-only gathering of more than 2,000 high-growth business leaders held November 11-15 in Palm Springs, Calif. The conference presents a one-of-a-kind platform for Entrepreneurial Winning Women to introduce their companies and integrate into a community of EY Entrepreneur Of The Year® winners, top executives, prospective investors and business advisors. The 2015 class members were introduced and honored November 12 at a celebratory luncheon hosted by Steve Howe, Chairman of Ernst & Young LLP and EY Americas Managing Partner, at the EY Strategic Growth Forum.
An investment in the advancement of women that now spans more than 30 countries worldwide, the Entrepreneurial Winning Women program is part of EY Women. Fast forward, a global platform designed to accelerate the achievement of global gender parity.
"Women's advancement and leadership are central to business performance and economic prosperity," says Lisa Schiffman, EY Director and Global Co-lead, Women. Fast forward. "Through this accelerator and programs such as Entrepreneurial Winning Women, we are using our influence and resources to catalyze opportunities for women in the workforce and advance their interests around the world."
Entrepreneurial Winning Women is conducted in collaboration with several organizations that encourage the development of women-owned businesses, including the Women Presidents' Organization (WPO), the Women's Business Enterprise National Council (WBENC), the National Association of Women Business Owners (NAWBO), The Committee of 200 (C200), Golden Seeds, the Kauffman Foundation and Babson College's Center for Women's Entrepreneurial Leadership. For more information on the program, visit ey.com/winningwomen.
About BeyondCurious
BeyondCurious is an innovation agency that crafts strategies and builds digital products for brands such as Toyota, Kaiser, GoPro, Sonos and Lexus. The agency brings together the creativity of Madison Avenue and the inventiveness of Silicon Valley to help brands innovate for the mobile age. For more information, please visit http://www.beyondcurious.com.