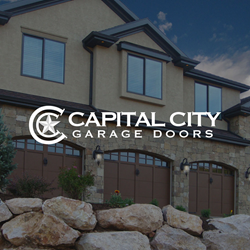 Our stunning Round Rock showroom proudly showcases Martin Garage Doors, the best garage doors available.
Austin, Texas (PRWEB) November 12, 2015
Capital City Garage Doors is a family-owned and operated business serving Austin and all surrounding areas with offices in Round Rock and Lakeway. Capital City Garage Doors is now also offering a stunning Round Rock showroom where they proudly showcase Martin Garage Doors, the best garage doors available.
As the former owner of a home improvement company, the owner of Capital City Garage Doors has been in the business of custom home improvement and making homes beautiful for over 29 years. With impressive growth since 2013, Capital City Garage Doors has been at the Austin Home and Garden Show since 2014, with an ever expanding presence. Capital City Garage Doors is not only discriminating with their high quality product offerings, they are also discriminating in their staff as well, hiring only the best. Other garage door companies hire techs on a commission based pay scale, while Capital City Garage Doors techs are all salaried, with no incentive to upsell the customer on parts or services that they really don't need.
Martin Doors is discriminating as well. Having been selected as the only Martin Door dealer in the south/central Texas region, all of Capital City Garage Door's technicians have met with Martin Door factory personnel and have completed specialized safety training and installation instruction. The techs have been highly trained to deliver quick and efficient services to you at affordable prices, without sacrificing safety and they are ready to service everyone from small residential clients all the way to large commercial installations.
Based in Salt Lake City, UT, Martin Doors has been producing their top of the line doors since 1936. With seemingly endless design choices, Martin Doors handcrafts every garage door out of the same single-source factory to ensure the highest quality control in the industry. Martin Doors is on the cutting edge of design with their glass panel, copper, recessed panel Pinnacle model, wood grain steel and "you'd never believe they're not real" wood-look doors. These amazing doors come with high-grade hardware that is worlds above the industry standard. All of Martin Doors products carry the longest and best warranties of any garage door manufacturer, with a lifetime warranty on all hardware on their premium track configuration, including springs and labor, which is unheard of in the industry.
Capital City Garage Doors uses LiftMaster garage door openers and gates for every new installation. This results in the most reliable service, efficiency and quietness. All openers offer myQ technology for today's truly smart home. All residential openers are also ready to utilize a phone app with the capability to operate your garage door remotely.
Setting their sights to be the largest garage door repair company in Austin and central Texas, Capital City Garage Doors looks forward to continuing to expand its services, service areas and adding additional techs, to continue to supply the Austin Metro region with the best garage doors available.