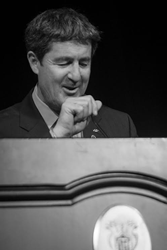 "Without support from the community, our work would not be possible. Our Veterans Day Gala allows us to raise the crucial funds needed to serve San Francisco's veteran population."
San Francisco, California (PRWEB) November 10, 2015
On Tuesday Swords to Plowshares, San Francisco's leading nonprofit veteran service agency, will host the 19th annual Veterans Day Dinner and Profiles of Courage Award Ceremony.
500 community supporters will join together to pay tribute to Swords to Plowshares and their tireless efforts to serve thousands of Bay Area veterans and improve their lives.
"We take tremendous pride in demonstrating the impact of our work and our veteran clients who overcame incredible obstacles in their transition from combat to community," said Swords to Plowshares Executive Director Michael Blecker. "As a Vietnam veteran myself, their stories inspire me. I can't think of a better way to celebrate Veterans Day than honoring these vets who have come so far."
Who: Swords to Plowshares, San Francisco-based veteran service agency 
What: 19th Annual Veterans Day Dinner, Profiles of Courage 
When: Tuesday, November 10, 2015; 5:30 PM 
Where: Palace Hotel, 2 New Montgomery Street, San Francisco, CA 94105
The following awardees will be recognized:
The law firm of Manatt, Phelps & Phillips, LLP, will be named the 2015 Pro Bono Partner of the Year; their involvement includes 18 attorneys working on 27 cases, logging in a total of more than 828 pro bono hours. Attorney John Keker, a founding partner at the law firm of Keker & Van Nest LLP, will present the award.
Lawrence Ferlinghetti, renowned poet and founder of City Lights Bookstore as well as a World War II U.S. Navy veteran, will be named the 2015 Community Hero for his dedication to veteran causes.
Joe Jackson, a retired Chief Warrant Officer in the U.S. Army and a current client of Swords to Plowshares, will be named the 2015 Profile of Courage. The award is given each year to veterans who have turned their lives around and shown courage in the face of adversity. Each story speaks to the full range of services that Swords to Plowshares offers and illustrates the success of the organization's nationally recognized programs.
"Without support from the community, our work would not be possible. Our Veterans Day Gala allows us to raise the crucial funds needed to serve San Francisco's veteran population," said Mr. Blecker. "The services that we offer empower veterans to live meaningful and productive lives. We restore dignity and hope to veterans in need on a daily basis."
For more information contact us at 415-252-4788 or visit http://www.stp-sf.org/veterans-day.
Sponsors of the 19th Annual Veterans Day Dinner include: Alan and Mindy Pedlar, Morrison and Foerster, LLP & Morrison and Foerster Foundation, Chevron, Keker & Van Nest, LLP and John & Tina Kecker, Lockheed Martin, William and Sherrie Millichap Foundation, Stephen M. and Rev. Faye Orton Snyder, and Wells Fargo.
About Swords to Plowshares
Founded in 1974, Swords to Plowshares is a community-based not-for-profit organization that provides counseling and case management, employment and training, housing and legal assistance to homeless and low-income veterans in the San Francisco Bay Area. Swords to Plowshares promotes and protects the rights of veterans through advocacy, public education, and partnerships with local, state and national entities. Learn more about the work of Swords to Plowshares, and ways in which you can help, by visiting our website at http://www.stp-sf.org.
###