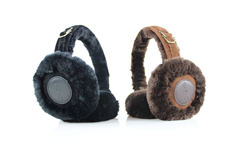 What better way to bring earmuffs into this new age of technology than combining the beauty and comfort of earmuffs, with the practicality and enjoyment of premium wireless headphones, and the ability to talk on the phone as well
Los Angeles, CA (PRWEB) November 11, 2015
Power Muffs, the combination of premium wireless headphones and stylish earmuffs, today launched its crowdfunding campaign on Indiegogo.
Power Muffs offers a rare combination of great sound, style, and warmth. Power Muffs play favorite music and allow hands-free calls while looking good and keeping ears warm in cold weather. Power Muffs' Indiegogo campaign will change the way people move to the beat and keep connected, while protecting ears from the elements.
"I've always wondered why people couldn't stay warm and use their earmuffs while talking on the phone, or listening to music without awkward earbuds or wires getting in the way. That's what inspired me to create Power Muffs," said founder Ashley De Harde. "We've come up with the only product of its kind at such an affordable price."
Power Muffs come with Bluetooth technology, compatible speakers, and a built in microphone. The headphones can also quickly switch from music to calls with the touch of a button.
"What better way to bring earmuffs into this new age of technology than combining the beauty and comfort of earmuffs, with the practicality and enjoyment of premium wireless headphones, and the ability to talk on the phone as well," added De Harde.
.
The stylish Power Muffs come in brown, black, or white and won't weigh down users. Each pair of Power Muffs is lightweight and flexible, weighing only 140 grams and they are adjustable to fit any size. Other features include:
● Six hours of playability
● Noise canceling microphone
● Premium dynamic stereo sound
● Rechargeable batteries
● 1-year warranty
● Micro USB charging cable
Power Muffs premium Bluetooth earmuff headphones start at only $29 on Indiegogo. Those who pre-order will receive their headphones in time for the holidays.
For more information, and to pre-order Power Muffs visit: https://www.indiegogo.com/projects/powermuffs-wireless-earmuff-headphones#/
About Power Muffs
Technology has come a long way since the Walkman was invented in the early 1980's. Back then style was secondary to the sound. Power Muffs combine modern day Bluetooth wireless headphones with attractive and wonderfully warm ear muffs. They look as good as they sound. Lasting up to 6 hours on one charge, you can move to the music or walk and talk with no dangling wires. Power Muffs are the must-have item for music lovers, lovers of the outdoors, or the fashionistas out there. Take the warmest sound in the world wherever you go and feel the power of Power Muffs™.