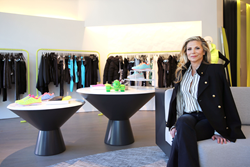 "Athleisure is now a way of life. Bandier's aesthetic and unique curatorial eye perfectly aligns with our customer." Deirdre Costa Major, President Castagna Realty Retail Group
Manhasset, NY (PRWEB) November 12, 2015
Bandier, the first luxury, multi-brand, fitness-meets-fashion concept store, known for discovering and merchandising the most exciting new and emerging activewear lines from around the world, has brought its meticulous industry edit to Americana Manhasset this fall. The brand's expansion demonstrates the rising demand for activewear, as well as Bandier's commitment to revolutionizing the market.
"We are pleased to have Bandier join us," says Deirdre Costa Major, President of Castagna Realty Retail Group, "Athleisure is now a way of life. Bandier's aesthetic and unique curatorial eye perfectly aligns with our customer."
The 2,000 square foot Americana Manhasset store offers Bandier's selection of over 40 brands including the best selects from emerging fitness apparel brands. Bandier will provide much-needed style options for women leading active lifestyles and for the boutique fitness community throughout Long Island.
"Physical stores and customer interaction is essential," said founder Jennifer Bandier in a statement. "We spend a great deal of time introducing customers to new fitness apparel brands and styling techniques, which results in a strong community of brand adopters, meaningful feedback and a solid foundation for continued expansion."
Often referred to as "The Barneys of Activewear," Bandier boasts an array of exclusive products in addition to a curated selection of 40+ incredible brands, challenging the incumbent mono-brand activewear retailers with a fresh approach to fitness and fashion.
Americana Manhasset is a premier collection of over 60 fine shops, including Hermès, Dior, Prada, Louis Vuitton, Gucci, Loro Piana, Chanel, Ralph Lauren, Ermenegildo Zegna, Cartier, Bottega Veneta, Hirshleifers, London Jewelers and more, all within a unique outdoor environment designed by renowned architect Peter Marino and landscape designer Oehme van Sweden. Americana Manhasset offers a complimentary Personal Shopping Service, a remarkable luxury fashion and gift resource. Located on Long Island's beautiful North Shore, Americana Manhasset is 20 miles from Manhattan and 50 miles from the Hamptons. Americana Manhasset is a Castagna Realty Company.
For more information, please visit americanamanhasset.com.
Follow Americana Manhasset on Instagram, Twitter, and YouTube, like our Facebook page and check out our Blog!