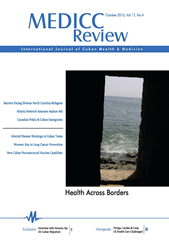 Health and well-being perfectly illustrate global interdependency and the need for equity.
Oakland, CA (PRWEB) November 11, 2015
MEDICC Review today announced the publication of its new issue on Health Across Borders, a look at how health transcends national borders and is driven by the movement of populations, vectors and health care workers, as well as shared climate patterns. These topics have taken on new implications as the world confronts refugee crises on two continents. The new MEDICC Review includes articles on migration and the situation of immigrants, primarily from the Global South to the Global North, including current Cuban migration trends and Cuban immigrants in Canada.
"There is an increasing recognition that we are affected by and affect what happens to our neighbors, whether they live around the corner or on the other side of the globe," said Dr. Christina Mills, MEDICC Review Managing Editor. "Health and well-being perfectly illustrate this global interdependency and also need for equity."
The October issue of MEDICC Review features an exclusive interview with Antonio Aja, Director, University of Havana's Center for Demographic Studies, on the demographic and political intricacies of Cuban migration. "Health Across Borders" also includes research on barriers facing diverse North Carolina refugees, an assessment of Atlanta's Asylum Network, and commentary on health care access barriers for undocumented Latino immigrants in the USA.
MEDICC Review is the first peer-reviewed journal in English dedicated to publishing original manuscripts by Cuban health and related professionals on topics of medical research, population health, and policies and practice of health in Cuba. The journal also publishes international authors on subjects related to health equity. Published by Medical Education Cooperation with Cuba (MEDICC), Oakland, California, USA, MEDICC Review articles are available open access, free online and available through PubMed and other indexing services http://www.medicc.org/mediccreview