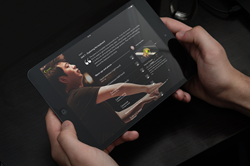 It's so important to me to find a way to enthuse today's kids - Lang Lang
London, United Kingdom (PRWEB UK) 11 November 2015
Technology is at the forefront of 21st century life. It is now reinventing a 300-year-old classical music publishing industry: transforming the way we listen to, play, practise and learn about music. Global superstar concert pianist Lang Lang is leading the way, bringing music education into the 21st century through his new iPad app 'mastering the piano with Lang Lang'.
Faber Music initiated the idea for the app, based on a successful collaboration and series of books with Lang Lang entitled 'mastering the piano'. They chose to partner with UK music start-up Tido and its pioneering technology in order to create this ground-breaking app. The app aims to inspire the next generation of pianists through exclusive content and a powerful set of tools, bringing technology and music education together for a completely new experience.
'Mastering the piano with Lang Lang' offers a wealth of content for the beginner to intermediate player and is designed to grow with the user over five progressive levels. The app pushes the boundaries of both digital sheet music and education and includes:

Range of specially chosen pieces designed to improve piano technique
Exclusive coaching and performance videos featuring Lang Lang
'Reflowable music': automatically adjusts to your iPad orientation
Sheet music audio playback ideal for the practising musician
Autopaging that listens to you and turns pages automatically
Lang Lang is one of the world's most talked-about pianists. In China alone, the "Lang Lang effect" is credited with encouraging over 40 million children to learn the instrument. Lang Lang says. "It's so important to me to find a way to enthuse today's kids and get them engaged in music. The app offers a unique approach to learning the piano, aimed a generation who live and breathe technology."
Kathryn Knight, CEO of Tido, said: "Technology has touched every cornerstone of our daily lives, but its been lacking when it comes to transforming the way we educate ourselves, practise and play music. At Tido, we've joined forces with leading publishers, creative technologists and music scholars to deliver a compelling product offering that nurtures musical talent."
Richard King, CEO of Faber Music, commented: "Lang Lang is renowned for being passionate about both music education and technology, so to be able to present this new app which encompasses both of these passions is something we're very proud to be a part of."
'mastering the piano with Lang Lang' is now available for iPad from the App Store.
For more information, visit: masteringthepianowithlanglang
or langlangpianoacadamey
Explore Unit 1 of every Level for FREE
Each Unit thereafter £2.99 / €3.99 / $3.99 US / $4.59 CAN
Entire Level (8 units) £11.99 / €15.99 / $15.99 US / $18.99 CAN
Contact:
Joan Lockwood
CMO @Tido
joan.lockwood(at)tido-music(dot)com
http://www.tido-music.com