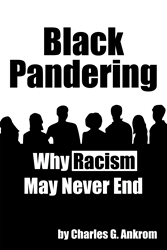 Race relations in America is a powder keg. If we do not begin to change the double standards of black pandering and eliminate reverse discrimination, society may soon face an insurmountable obstacle to ending racism
Bolivar, MO (PRWEB) November 13, 2015
Should the University of Missouri president have resigned? Are the Oscars too white? Is it racist for a rodeo clown to wear an Obama mask? According to Charles G. Ankrom's new book "Black Pandering," answering in the affirmative may prove his theory that society panders to blacks.
The result of an in-depth investigation, "Black Pandering" works to expose Ankrom's discovery— the existence of a politically-correct mindset of reverse discrimination present in America. Ankrom's critical examination of a cross section of societal facets suggests that the practice of black pandering has created inequalities that pose major barriers to eliminating racism.
"I hope to get people to look differently at the way race is discussed in society. Perhaps this book can be the start of the true dialogue between races that is needed to end racism," Ankrom said.
As an attorney from southern Missouri, Ankrom has witnessed a range of race relations and has studied racism for over 20 years. He notes that society's efforts to eradicate racism instead widen the gaps between races and allow for the increase in highly-publicized claims of racism seen in recent years.
"Race relations in America is a powder keg. If we do not begin to change the double standards of black pandering and eliminate reverse discrimination, society may soon face an insurmountable obstacle to ending racism," Ankrom said.
In an effort to reduce that obstacle, "Black Pandering" will serve as a springboard for readers to begin examining and discussing racism through a new lens.
For more information, visit http://www.charlesgankrom.com.
Black Pandering
By Charles G. Ankrom
ISBN: 978-150496
Available in softcover and e-book
Available on Amazon, Barnes & Noble and AuthorHouse
About the author
Charles G. Ankrom graduated from the University of Missouri and has practiced law for over 33 years, including 16 years as an elected prosecuting attorney. He currently resides in Bolivar, Mo. where he practices defense and family law.
For review copies or interview requests, contact:
Jessica Wenclewicz
317.602.7137
jwenclewicz(at)bohlsengroup(dot)com