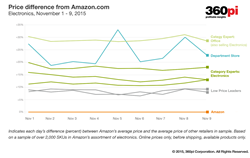 Ottawa, Canada (PRWEB) November 12, 2015
360pi, the leader in product intelligence, today released the second report in its popular Holiday Insights Series. 360pi's Holiday Insights report, A Flurry of Tactics: Retailers Going Beyond Price To Win The Season, analyzes how Luxury retailers, Category Experts, Low Price Leaders, Department Stores and Refiners are utilizing experience-based tactics to win over the shopper's attention this holiday season. 360pi examined leading players in each of these categories to determine their key holiday pricing activities and value influencers.
Key trends from this report include:
Luxury retailers aim to inspire dreams across all channels
Luxury brands and retailers are striving to develop a deeper connection with their customers this holiday season by focusing on brand message consistency, customer immersion, interaction, and instant gratification.
Category Experts hinge on customer loyalty
Category Experts are using holiday marketing as a platform to further establish loyalty and are discussing holiday "costs" beyond just price, such as the holiday stress and time limitations that their customers experience. Category Experts are also differentiating with value-add services exclusive collections, and solid price matching policies.
Department Stores display an array of approaches
This holiday season, Department Stores focus on promotional pricing tactics in offline shopping, including cardholder targeted campaigns, expansion of in-store door buster deals and site-to-store shopping options. However, with experts predicting experiential-based retail as the future, smart data-driven department stores may be able to leverage their physical presences and existing loyalty to successfully evolve into the next generation of winning retailers.
Low Price Leaders lead the pack by starting early and price-matching
Low Price Leaders are promoting early season discounting, layaway programs and robust price matching strategies to reinforce pricing and product images.
Refiners change the game with new tools
For Refiners, specifically Amazon, this holiday it's all about Prime. The retailer is pushing its free shipping membership heavily this season while also generating a lot of buzz over its Lightning Deals. As a Refiner, Amazon appears to be applying insights from their summer event, Prime Day, and consumer data to ensure these Lightning Deals hit the mark to win this season.
Retailers Going Beyond Price to Win The Season is part of 360pi's third annual award-winning Holiday Insights report series, featuring a Holiday Countdown Calendar, a must-have for every retailer and brand this holiday season. Subscribers to the program receive holiday product and pricing trend reports, pre- and post-holiday analysis webcasts, and Toy and Electronics summaries, among other category insights. These insights cover the strategies and tactics for a number of major retailers, including but not limited to, Amazon, Walmart, and Target, over the course of the holiday season. For more information about how 360pi's product and pricing solutions can help retailers and brands win this holiday season, please contact info(at)360pi(dot)com.
About 360pi
360pi derives profitable insights from product and pricing big data to help leading omnichannel retailers, etailers, and brand manufacturers compete and win with shoppers. 360pi's customer base accounts for over $US200 billion in annual product sales and includes Ace Hardware, Build.com, and Overstock.com, along with several Fortune 500 consumer products companies. With the majority of in-store purchases being influenced online, 360pi helps retailers and brands successfully navigate the multi-channel landscape with real-time insight into who is selling what, where, when, and for how much. Ultimately, 360pi customers make smarter decisions faster to drive increased revenues and margins across all channels.